Elyon Will Finally Launch A Close Beta Next Month
Kakao Games and Bluehole Studio announced they will be holding a closed beta for Elyon for North America and Europe in May. Previously known as A:IR, this has become the company's pride and joy as the MMORPG has gone through several changes over the years to what it is today. Now they're expanding the game to a bigger global audience and are looking to work out all of the issues with it. They're currently taking applications for participants for the closed beta if you're looking to try the game out and help them figure out what needs to be adjusted during the short period from May 6th-10th. You can sign up for the closed beta here, but you only have until April 25th to do so.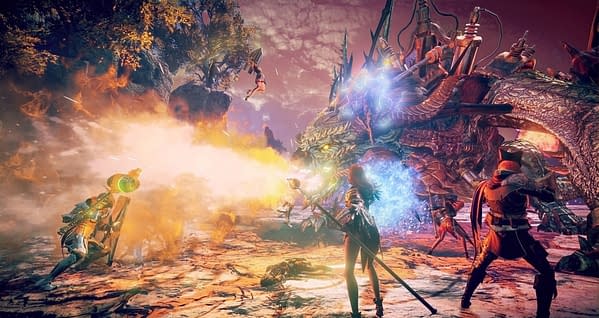 Elyon is a fantasy MMORPG set in a world where two sovereign realms, Vulpin and Ontari, are at war for the control of "Elyon," a portal that leads to paradise. Players will be able to customize their skills, craft gear, and engage in large scale Realm vs Realm battles to secure victory for their Realm.

Extensive character customization: Create your own unique character with extensive customization tools and detail-oriented options. Want to go the extra mile? Take your look to the next level with the Equipment Dye system.
Deep skill customization: Modify the way your skills and character respond with Skill Attributes, Rune Attributes, and Mana Awakening.
Realm vs Realm battles: Engage in large scale Realm vs Realm battles with the assistance of heavy artillery, mechas, and dragons!
Clan Wars: Compete with other clans and establish yourself as the best of the best. Top clans get to control Dimensional Portals and collect taxes from any player that enters them.
Gather, craft, and trade: Make your own high grade equipment and other consumables that will aid you in battle. Have unused materials? You can sell them via Trading and make a profit!
Open-world PvP: Players of opposing Realms can attack each other anywhere in the world. When in conflict zones, players can claim Laurel Wreaths of Greed, allowing them to attack any player be it enemy or ally – but the use of such power comes with dire risks.
Dungeons, Arenas and Dimensional Portals: Enjoy a variety of PvP and PvE content, from classic 1vs1 to Free For All arenas, to dungeons filled with clever mechanics. Dimensional Portals will lead you to planes of rich resources that will help you become stronger.