This morning, everyone was made aware of a new Fortnite event where a rocket would be launched into the air, but the results left more questions than answers. If you were playing the game or, more than likely, tuned into Ninja's Twitch feed, you saw a rocket get launched off from a mountaintop and speed off into the sky. Part of the rocket fell off while the rest continued forward, followed by a cosmic event where the final piece of the rocket hit the top of the map and put one of the biggest cracks in the sky we've seen since that Futurama movie-turned-four-part-episode 'The Beast with a Billion Backs'.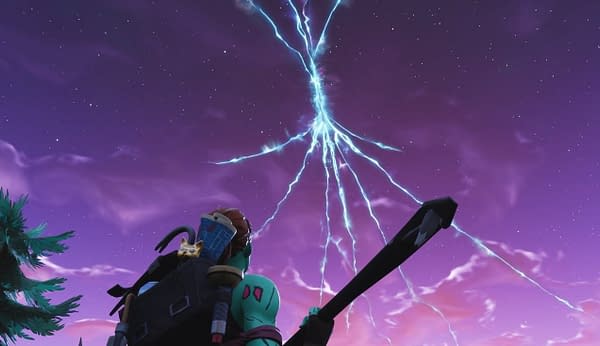 There were a few more events in the sky that were hard to pinpoint from a distance, but it was far more interesting to watch this happen than the comet that hit the ground last season. Whatever it is, it's already spawned dozens of speculation threads happening on Reddit and a Twitter community coming up with their own fan theories. We'll see if any of it comes true, but the reality is, unless we hear some leaks, we won't know anything until Fortnite season 5 launches down the road.
FORTNITE ROCKET LAUNCH i got the whole thing #FortniteRocket #fortnite pic.twitter.com/i8JuTiP8FP

— Crash (@iCrashhh) June 30, 2018
Enjoyed this article? Share it!