Button Mashing And Lens Flare: Hands On With Dissidia Final Fantasy NT At E3 When Square Enix announced they were bringing Dissidia to consoles, it was awesome news. Dissidia has always been a bit of a mess, but an enjoyable one. The playable demo at E3 for Dissidia Final Fantasy NT is no different. The mechanics are pretty simple, if not weird for a fighting game. Your basic attack doesn't actually damage HP, but allows you to charge up in order to do some significant HP damage- or even get a one hit KO. That said, there are about three buttons to the entirety of the controls, and it's made of 3v3 matches. So there's some symmetry there.
The entire game is designed for button mashing. You litterally just smash down on your base attack before hitting your HP attack, while trying to dodge your opponents on a variety of incredibly Final Fantasy stages. They all look like shiny crystal.
The main thing I learned from this six player 3-on-3 demo was that you absolutely do not want to run with three Vanguard class characters, especially two of Cloud Stife.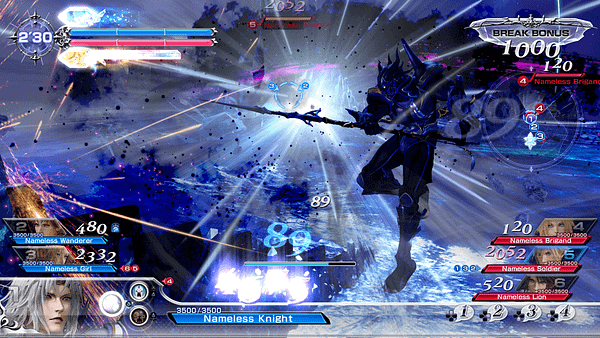 Our enemy team of assassins may have been a series of glass cannons, But when you've got three tanks trying to charge in on a flat, open map, it is not a good match up.
Still, Dissidia NT is exactly what it should be. A quick fighter game with all your favorite Final Fantasy characters. And it's a pretty hard formula to screw up.