Remember back when we first found out about the crater in Fortnite? Like a lot of new content, we found out sooner than we should have. Now it appears the company is taking the same steps toward stopping leaks as they are with hackers: taking people to court. Polygon posted an update to what may be an interesting lawsuit to follow as the company is taking a quality assurance contractor named Thomas Hannah to court, claiming they worked with a third party to spread info about the Season Four event in which a comet hit and destroyed Dusty Depot to create the crater you see below.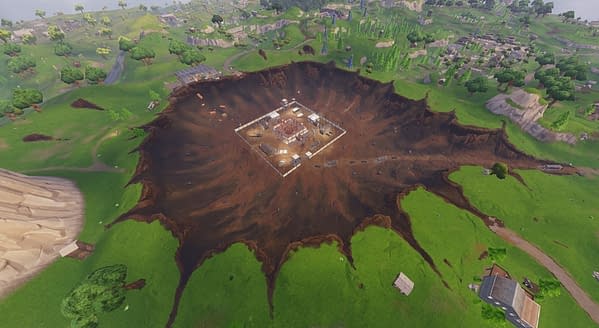 Hannah has filed a defense against them saying they did not willingly give away information to hurt the company, and that the unnamed third party simply rolled off a bunch of questions trying to get as much info as they could and took a guess online. That info leaked on the Fortnite subreddit on April 27th, five days before Season Four kicked off. Epic sued with the claim that Hannah willingly gave the info out after his contract with the company ended three weeks prior to the leak, where Hannah claims it was a friendly conversation that led to an outcome he had no control over.
Regardless of how you feel about this situation, it shows that Epic Games basically has a zero-tolerance policy when it comes to hacks and leaks and is now going for blood whenever they find people involved with either. You may recall the company is also going after a 14-year-old hacker, who had allegedly been selling hacks to people in the game. Whether you agree with their tactics or not, they are setting a precedent for anyone who tries to mess with their game.
Enjoyed this article? Share it!