Eversoul Announces All-New Valentine's Day Event
Kakao Games is bringing Valentine's Day to Eversoul, as the devs have added a new series of activities running until early March.
---
Kakao Games and Nine Ark Inc. have released details this morning for a new event coming to Eversoul, as the game celebrates Valentine's Day. Starting today and running all the way until March 2nd, players can jump into the game and take part in the Valentine's Event Story, which features a new special event stage called Bonbon Chocolat Paradise. You can take part in this daily as you'll encounter a series of seven levels with two different stages, each one will have you fighting against exclusive Valentine's costume-equipped monsters. Those who come out on top will be rewarded with items such as Everstones, Soul's Memories, and Love Potions. You can read more about the event below and check out a trailer showing it off.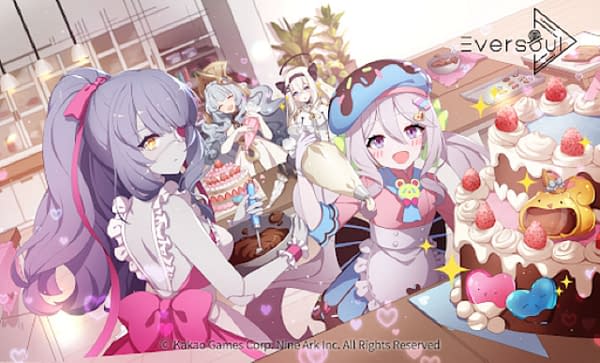 "Love Potions may be exchanged for exclusive costumes such as the adorable "Pure Heart Chocolatier" for Rebecca and "Sweet Savage Maid" for Jacqueline. These can also be used to obtain special objects, including a Floating High Sweet Balloon, Pure Love Merry-Go-Round, Sweets Tree and the Chocolate Ferris Wheel, and many more which can be placed in your own Town for a chic new look as well as helpful buffs. That's not all! Valentine's in Eversoul is packing even more events to leave your heart full, including the Valentine's Daily Login Bonus and Valentine's Daily MIssion Event. The 14-day Valentine's login event also offers Everstones, Normal Summon Tickets, and special objects for your Town, earned simply for logging in during the Valentine's Daily Login Bonus."
"Players can bag Soul's Memories which can be used to add Epic Souls Rebecca and Jacqueline for completing daily missions, along with other valuable resources and even more Love Potions via the Valentine's Daily Mission Event. For those who enjoy Eversoul's PvP, bonus events commencing today will see loot earned for winning Arena matches doubled. In addition, the Hearts you give and receive with your friends will also double during this period, seeing you benefit from interacting with both friend and foe. Rose Poison Velanna, a lovely yet deadly Soul with a passion for sword-swinging chaos has now joined the beautiful roster of playable characters as a formidable ally. This new Undead Warrior has a higher chance of being acquired through a pick-up summon event until February 15. Watch them in action here. Players also have a higher chance of pulling Undead support character Prim in a pick-up summon event which will run until February 23, making it the perfect time to reinforce your party with powerful Undead-type Souls."