Fantasy FlightGames continues to knock upcoming releases out of the park for Star Wars: Legion, with news from the latest release update making us as giddy as an Ewok at a stormtrooper buffet!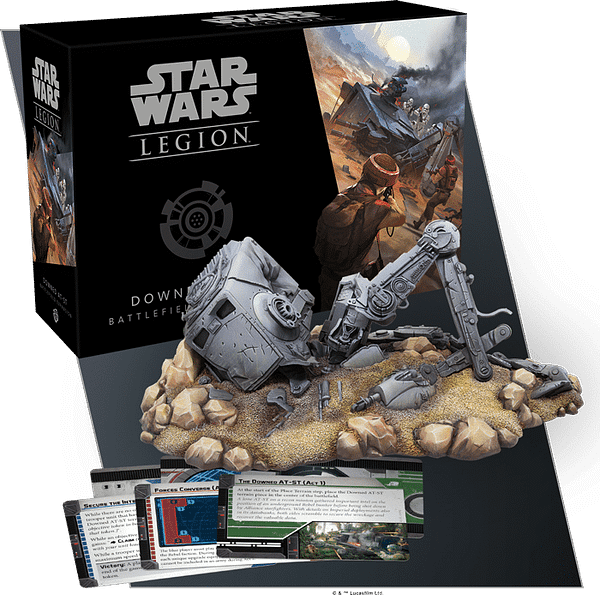 The Imperial All Terrain Scout Transport is a formidable war machine, cutting through Rebel lines as it stomps across the battlefields of the Galactic Civil War. Despite their appearance, however, these intimidating assault vehicles aren't invincible.
Terrain plays a major part of any good tactical table-top game, and can make a huge difference in how a player's strategy comes into play. Plus, cool terrain makes a game that much more fun, and this toppled AT-ST certainly fits the bill!
Fantasy Flight didn't stop with great, thematic terrain, though- the Downed AT-ST Expansion comes with 6 scenario battle cards that allow players to make the terrain piece a game objective. The "Secure the Objective" card has players facing off against each other to secure vital intelligence that is locked up in the hull of the hobbled walker.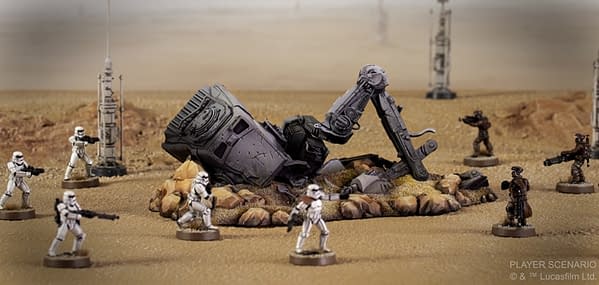 There is also a multi-act scenario included in the Downed AT-ST set, with ramifications for the forces involved from one scenario to the next! This is sure to add plenty of flexibility and excitement to games of Legion, especially for veteran players looking for something new in their games.
Now that we've seen this awesome piece of terrain, we can only hope to see more on the way! A couple of wrecked speeders would be great to see, or a debris field with odds and ends of ships, maybe? The possibilities are endless, and we can't wait to see what Fantasy Flight Games has in store for us next!
The Downed AT-ST Expansion set is due in stores during the second quarter of 2019, check your local game store for pre-order details!
Enjoyed this article? Share it!