Feast of Bones from Games Workshop is in Stores Now
Feast of Bones, the latest mega-boxed set for Games Workshop's immortal Warhammer: Age of Sigmar fantasy combat game is out in stores now, and it's pretty impressive. Let's take a look at Feast of Bones, and sink our teeth into what you get in this giant box, why it might be a must-buy for you, and whether or not you even have a chance in hell of getting your hands on it in the first place!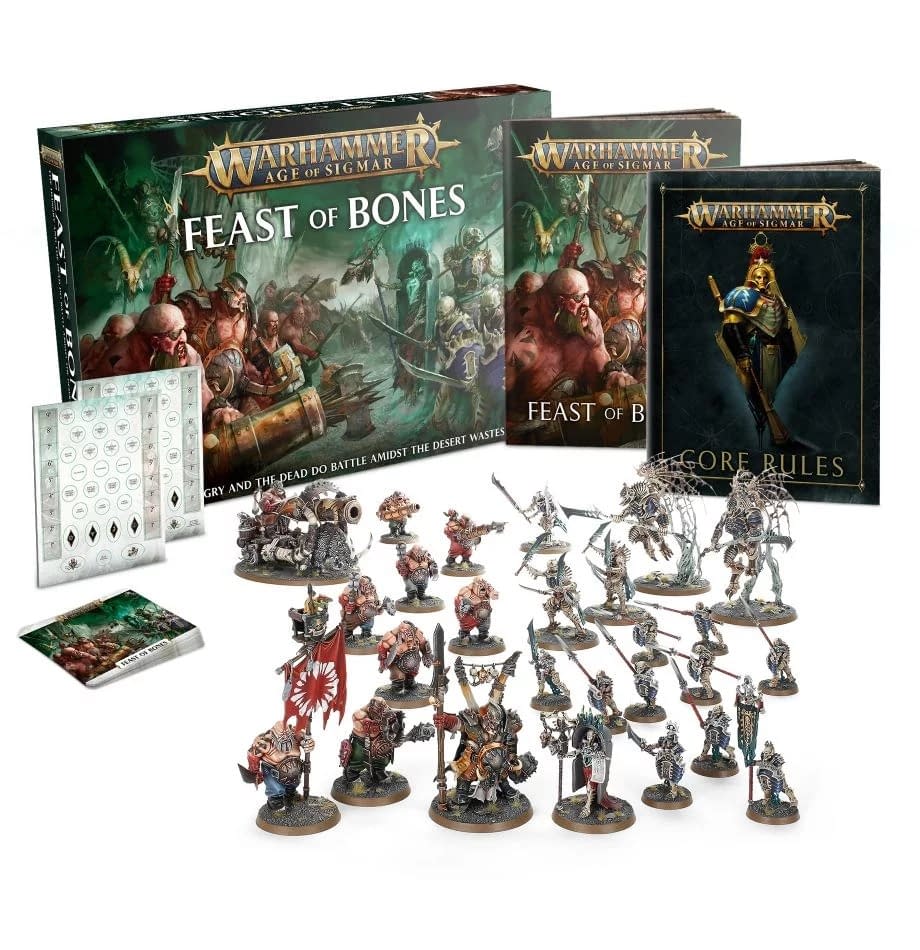 What's In the Box?
Big, giant brutes and a bunch of Bone Daddies. Quite a few of these beauties have been released before, but there is still a whole lot of cool packed into this box:
– 26 multipart, beautifully sculpted Citadel miniatures
Unleash the Ogor Mawtribes with 6 Ogor Gluttons, 2 Leadbelchers, 1 Ironblaster and a plastic Ogor Tyrant available first in this set, or march for Nagash with 10 Mortek Guard, 3 Necropolis Stalkers, 2 Morghast Archai and Vokmortian, sinister Master of the Bone-tithe.

– The 40-page Feast of Bones book
Discover the story and armies of Feast of Bones with lore, art and rules that explore both forces and the reasons for their conflicts, including warscrolls and two warscroll battalions that let you game with the models right out of the box.

– Warhammer Age of Sigmar Core Rules
Get started easily with this 16-page booklet that guides you through how to play Warhammer Age of Sigmar.

– 8 Warscroll Cards
Make tracking your rules mid-battle simple with these easy-reference Warscroll Cards.

– A Double-Sided Token Sheet
Perfect for tracking ongoing effects in your battle like spells, command points and more.
The Minis
Here's a look at the Ogors, and the all-new boss Ogor Tyrant: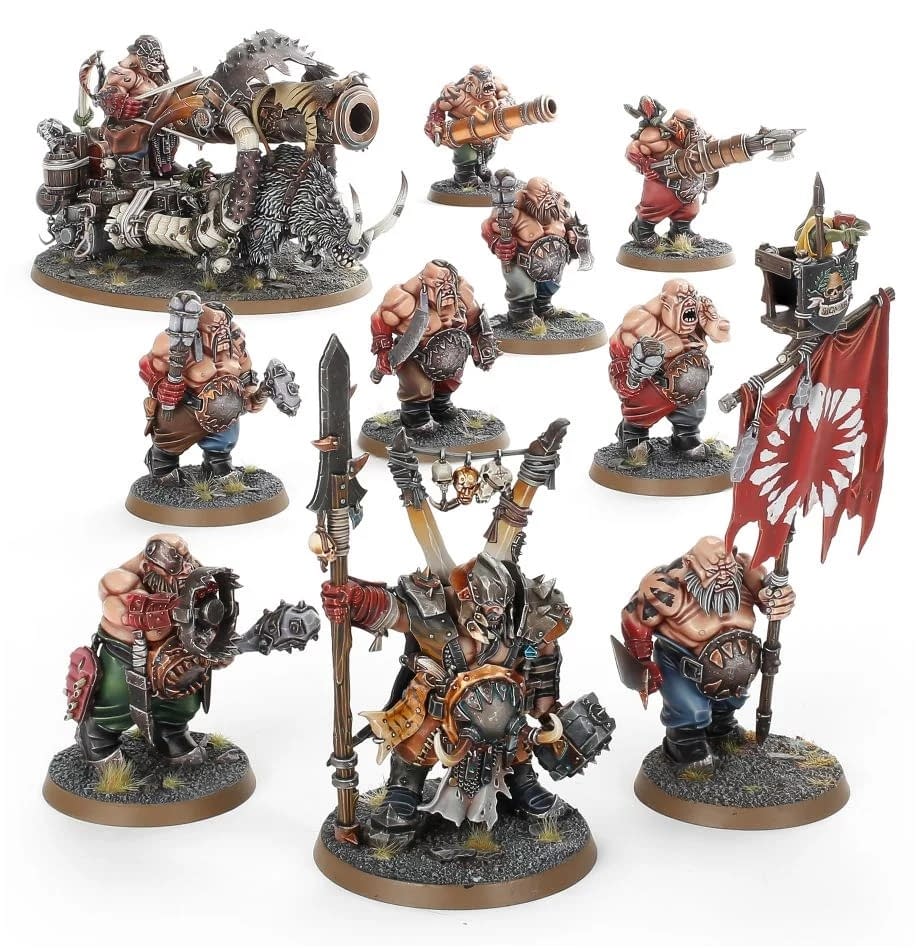 The Ogor Tyrant is the only new model for the Ogors from Games Workshop, so if you already have the rest of these miniatures, this may not be the best deal for you. But, if you're new to the big brutes, this is a pretty great deal.
The forces of Nagash are also mostly older kits, but they look great, and you get Vokmortian, sinister Master of the Bone-tithe. Bone-tithe is the name of my new metal band, we'll be playing all week at the Holiday Inn in Medford, Oregon. Here's the Bone Daddies: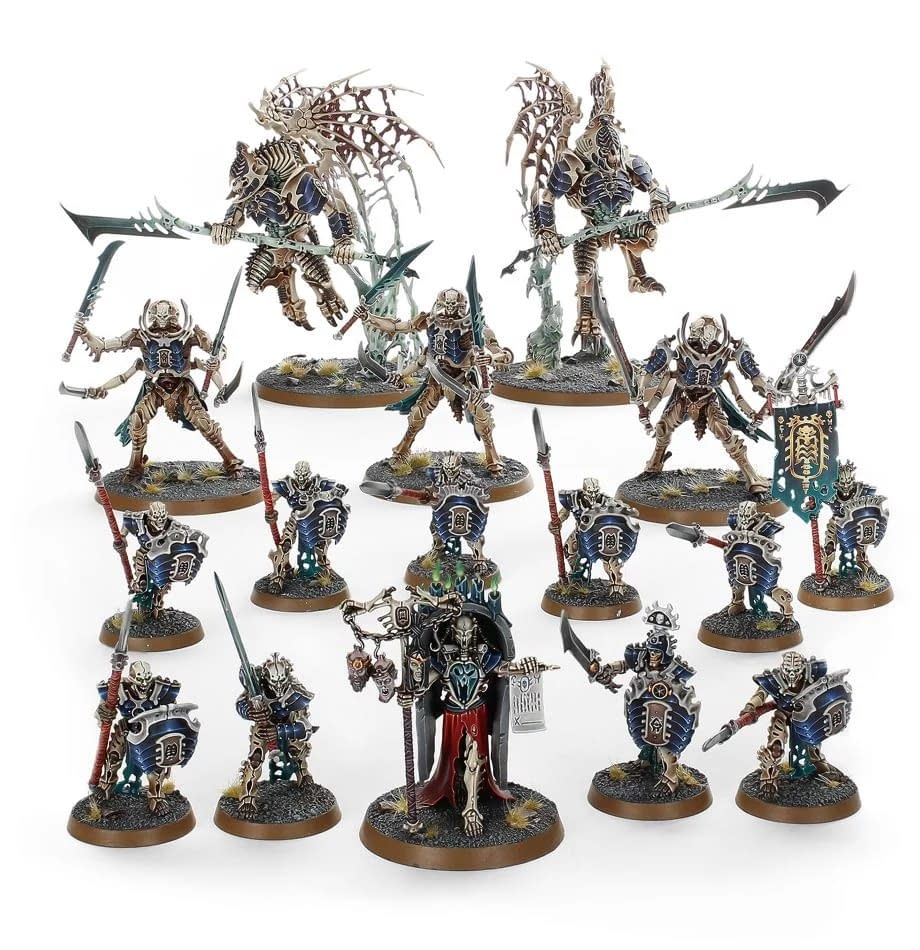 Is Feast of Bones Worth Your Hard Earned Money?
Well, that depends. If you have these figures already, then no. If you're new to collecting either army, or you're looking to bolster your existing army, this is a great way to get a ton of models in one pop. At an MSRP of $195, though, your wallet might need a defibrillator after your purchase.
As far as availibility is concerned, The Feast of Bones is already sold out on Games Workshop's online store, so your best bet is going to be your local game store. You'll probably want to call ahead and see if they have a copy available!
And as always, may your dice always roll in your favor.