We've got another Final Fantasy crossover event happening on mobile, but this time it's a collaboration between Final Fantasy Brave Exvius and Final Fantasy VIII. Square Enix is adding two new characters to the mix along with a number of extra from the installment, as you will get to play as Squall Leonhart and Rinoa Heartilly. We have the details for you about the collaboration as well as a trailer for you below, but it's nice to see these two pop up in this game.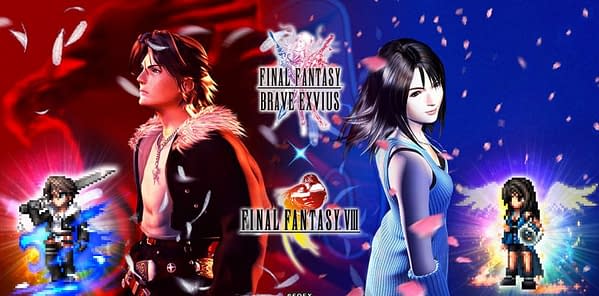 During the event, players can join the elite mercenary group, SeeD from Final Fantasy VIII, to defeat powerful enemies and earn rewards. Iconic characters Squall, Rinoa, and Zell are also available through a featured summon and can join players' teams. Squall and Rinoa have been enhanced from their Japanese counterparts for the global audience. Beginning August 8, 2018, players can also venture into the Final Fantasy VIII exploration dungeon to earn additional rewards.

Additionally, with the recent introduction of 7 star unit upgrades, certain units can now be made more powerful than ever before. By meeting certain conditions, players can now upgrade fan favorite characters including Lightning, Dark Knight Cecil, Luneth, Orlandeau, Gilgamesh, Olive, Seabreeze Dark Fina, Dark Fina, Wilhelm, Marie, Ramza and Delita to 7 star.
Enjoyed this article? Share it!