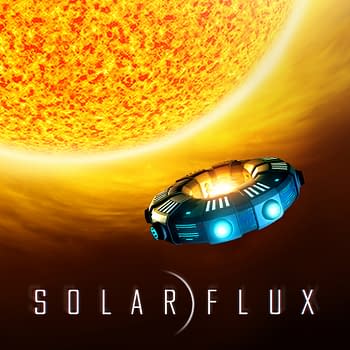 Independent developer Firebrand games is bringing its critically acclaimed space puzzler Solar Flux to the Nintendo Switch next month. The puzzle game will go live on the Switch eShop on December 11th, 2018 for all Switch owners. Previously, the game was released on Steam and mobile platforms.
As for the game itself, the official description reads:
In Solar Flux, players take on the role of a ship tasked with reigniting the cores of stars on the brink of burning out. They accomplish this task by collecting balls of plasma and firing them into the dying stars. However, the natural dangers of space present hazards to the player as they wind between asteroids, black holes, and the still-blazing stars themselves as the ship works toward their monumental goal.

Simple to play but with immense depth, Solar Flux aims to capture "a combination of traditional puzzle mechanics, coupled with the serene beauty and unknown that are everywhere outside of our world," says Creative Director Alex Knight and truly succeeds at it. 80 missions that take place across four different galaxies are in the game, each with the amount of polish you would expect from a developer located right at the heart of the United States' space program, Cape Canaveral.
Alongside the Switch announcement, Firebrand released a new teaser trailer for the game. Today's trailer showcases the player's vessel as it goes about its mission, collecting plasma orbs and sending them to the stars. Its joined by a rather haunting backtrack, which makes for a very tense game trailer.
You can check out the Switch reveal trailer below.
Enjoyed this article? Share it!