First Day Play Impressions- Rare's Sea Of Thieves [Beta]
Good pirate games are hard to come by, and I'm still super hopeful that Rare's "Sea of Thieves" will deliver the booty once things get out of the testing phase, which has been pretty rough. Not gonna lie. The possibilities however, of how this game will be once the kinks get worked out, are as endless as the cartoon horizon.
(All the images are ones I captured during my play session.)
I spent about an hour and a half trying to play, and I gather from speaking to some colleges, they had the same issues I did with not understanding the game mechanics, quest errors, and a myriad of other beta-type things.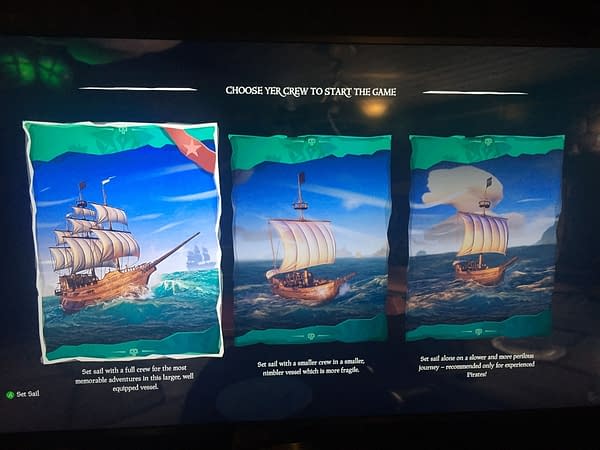 The game starts in a tavern where you can get yourself some banana and cannonballs. not sure if you're supposed to be able to pick up a tankard, because i couldn't figure out how to equip my tool items (I figured that out later), but when you DO have one equipped you can get a grog refill from the barkeep.
Once outside the establishment, I was able to flick through the weapons on hand, a cutlass, a flintlock, and what looks like a sniper rifle?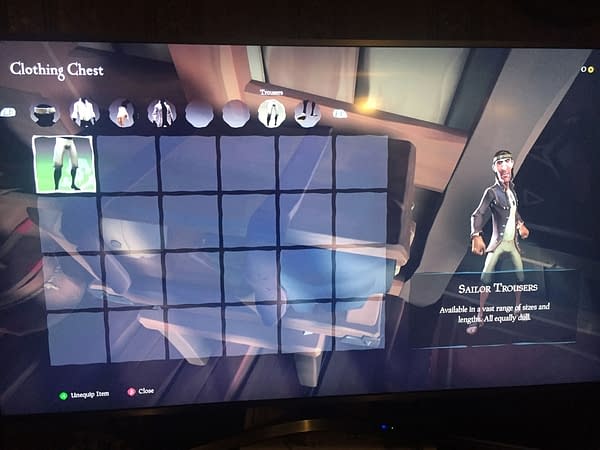 This is the character screen that appears when you find yourself in front of a 'clothing chest', which also took me no small amount of time to figure out.
The weather is pretty nifty, heavy dark clouds and distant thunder and lightning slowly making their way to the coastline where the character finds themselves. the wind in the palm trees is a really nice touch.
You CAN swim, of course I had to check that out.
There is what looks like a blacksmith on the island, but there isn't any interactions available at this point, at least for me.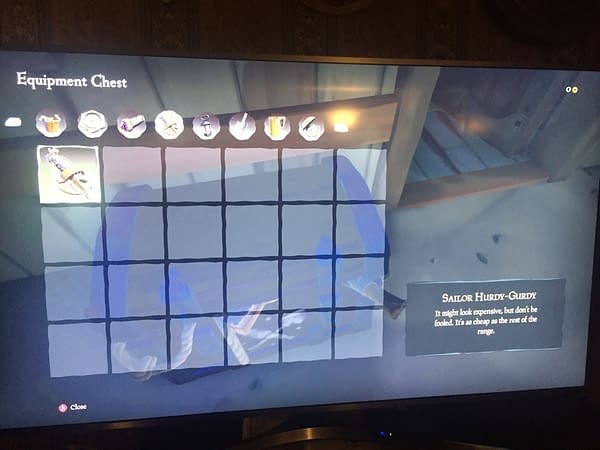 I boarded my ship (I assume it was my ship) and figured out to raise the anchor, set my sails length, and take the wheel. Hopefully there will be something akin to a tutorial when the game is actually released, because it it unclear what a person is meant to be DOING.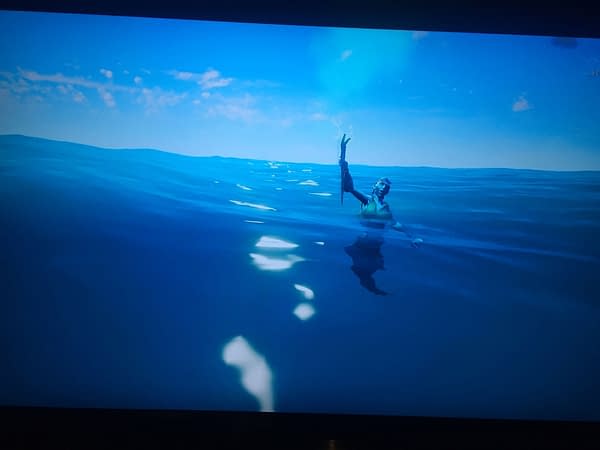 I made my way to cannonball cove, where after dropping anchor my ship sank. SANK or derezzed, but still sank. A mermaid creature with a torch appeared, and it's prompt is to "return to the ship", haven't tried it out yet.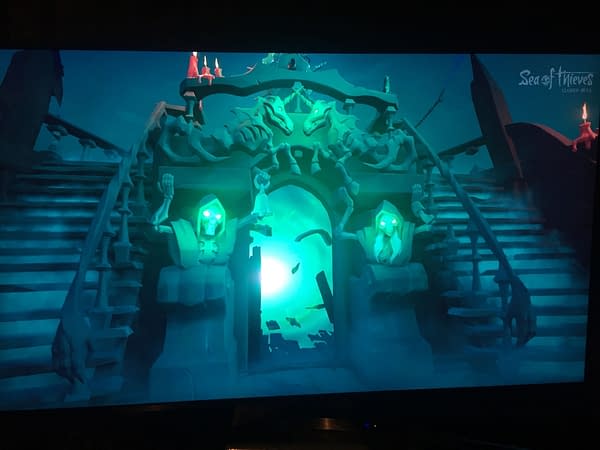 In surveying the island, i was set upon by a set of skeletons who killed me, and i woke up on a ghost ship with a ghost captain. A door opens in what would be his cabin, and a portal appears.
And then around this time, the game suddenly decided it didn't want to load on my XBOX One anymore. So, I'm going to give it another try later tonight, and hopefully I'll have more to share with you guys.
I'm interested, I WANT to play "Sea of Thieves". Did you get into the beta group? Did you have similar problems? Let us know!