For Some Reason, Domino's The Noid Is Joining Crash Bandicoot
In what feels like a really weird crossover event, the old Domino's mascot The Noid will be joining up with Crash Bandicoot. Specifically on the mobile title Crash Bandicoot: On The Run, where he will be a special character added to the game for a brief time. In case you're too young to remember this character, The Noid basically is a physical representation of being "annoyed", which is what you are when your pizza is delivered late. So they turned it into a character that for a brief time was as popular as any mascot you see today. (This is all real kids, check him out.) Starting May 7th, the Noid will join the game as one of the featured mini-bosses, pitting players against him as you make your way through the story, doing your best to "Avoiding the Noid" as much as possible in a whole new light. You'll also be getting access to exclusive Domino's pizza-themed player skins, just in case you feel like having Crash look like a delivery driver.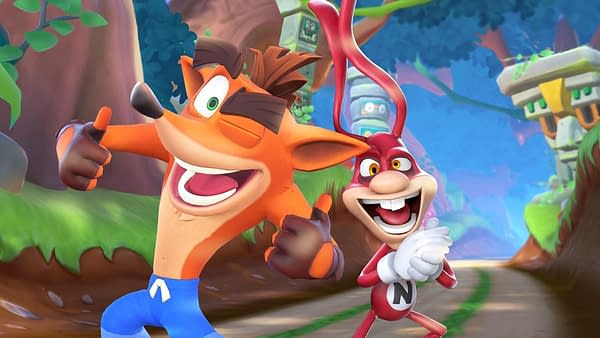 "The Noid is Domino's oldest and most famous villain, and the pizza delivery testing we're doing with Nuro's autonomous vehicle is exactly the kind of technology innovation that could provoke the Noid to return," said Kate Trumbull, Domino's vice president of advertising. "However, after 35 years of practice in avoiding the Noid, we're pretty confident we know how to defeat it."

"We're excited to launch our first in-game collaboration for Crash Bandicoot: On the Run! with Domino's," said Richard Hocking, head of marketing at King, the game's developer. "With the Noid making its big return this year and the Crash Bandicoot franchise celebrating its 25th anniversary, it was the perfect opportunity to have players take on the Domino's antihero alongside other nostalgic Crash bosses in this brand-new mobile adventure."