Epic Games has added a new minor update to Fortnite today that includes a few new pieces of gear to help you wreck a room. The latest patch, which you can read more about here, is giving you a new Typewriter Assault Rifle in "Save The World" mode, and the Submachine Gun (seen below) for Battle Royale so you can get off a few extra shots per round out of both. We have the full list of updates below so you can jump in and start wrecking the place freely.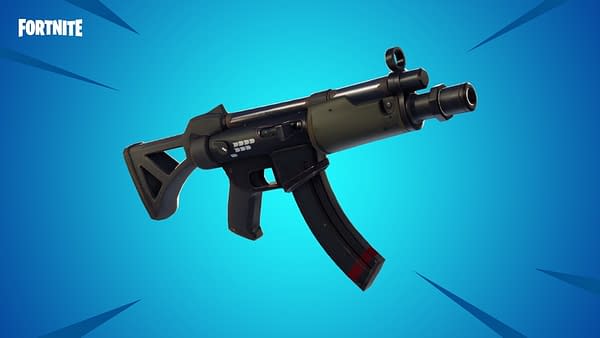 BATTLE ROYALE

WEAPONS + ITEMS

Submachine Gun added.

Available in Common, Uncommon, and Rare variants.
Uses Light Ammo.
30 round capacity.
Can be found in floor loot and chests.

Tactical SMG has been added to the Vault.
Semi-Auto Sniper Rifle damage increased to 75/78 from 63/66.

SAVE THE WORLD

50% OFF SALE!

Purchase the game for half off for a limited time.

Starts July 17 and ends July 30.

WEAPONS + ITEMS

Typewriter Assault Rifle added to the Weekly Store.

A mid-range assault weapon with a high capacity magazine and a lateral kick. Its shooting profile makes it ideal for clearing groups of nearby enemies in mobile engagements.
Available Wednesday, July 18 at 8 PM EST until Wednesday, July 25 at 8 PM EST.
Enjoyed this article? Share it!