Epic Games revealed this morning that they will finally launch Chapter 2 – Season 3 of Fortnite next month with the new date of June 11th. The word came down on their social media and website this morning, letting players who were wondering how long they'd have to wait to know when the next season would begin. Much like a lot of other plans in video gaming, a lot of things shifted with the COVID-19 outbreak, which included the Epic Games staff practicing self-quarantine and slowing down development on what they were planning for Season 3. Now that the work appears to be completed, they sent out this short message to players today.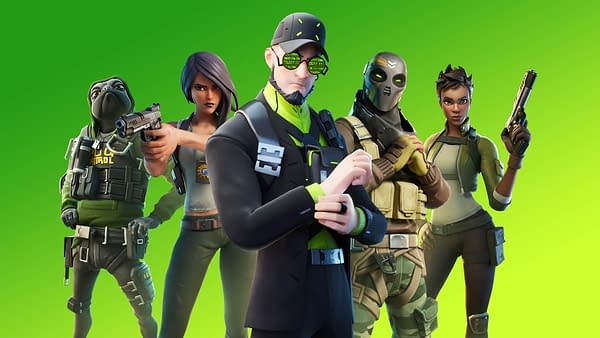 In an effort to get everything ready for Chapter 2 – Season 3, we're extending Season 2 by one week. The new launch day of Season 3 will be Thursday, June 11. Also make sure to check out a one-time-only live event called The Device, now scheduled for Saturday, June 6 at 2 PM ET (please show up 30 minutes early to help secure your spot, space is limited!). Before the new Season, don't forget to complete your Battle Pass Challenges and lock in appearance choices for Brutus, TNTina, Meowscles, Skye, Midas, and Maya. There's still time to complete the recently-added Location Domination and Storm The Agency Challenges.
As to what the season entails, the promo art seems to give hint that after all the spy games stuff is over, it appears the law will finally make an appearance to put the kibosh on all of it. Or at least, that's what we assume based on the fact you're looking at people dressed as military and law enforcement. We'll see how it actually plays out two weeks from now when the season officially kicks off in Fortnite for everyone to play.
Enjoyed this article? Share it!