This morning, FoxNext Games have launched their latest mobile title onto iOS and Android as you get to explore the worlds of Storyscape. This is an interactive story series in which you can play one of a few different stories where your choices dictate where you go. What's more, they got some familiar IP titles behind it such as The X-Files and Titanic. You can check out more about the game below as it is available to download now.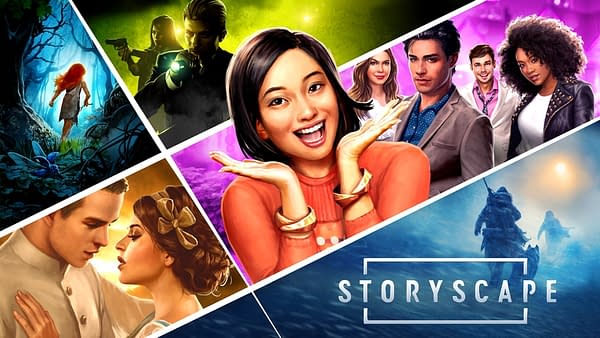 A single choice can change everything. Enter Storyscape, where world-class writers bring players tales of romance, intrigue, and adventure and every decision they make transforms the story. Discover love aboard the Titanic or confront the unknown with The X-Files. Find romance in a new city or explore a magical realm as a slave-turned-revolutionary leader. New shows and seasons drop often, so there's always something exciting to play.

KEY FEATURES

CHOICES THAT MATTER: Control the fate of your characters and determine their path through each episode of their ongoing adventures. Find romance, and your loved one will remain by your side. Betray the wrong person and face retaliation. It's your story! What will you choose?

IMMERSIVE TALES: There's something for everyone. Rebel against a vicious and oppressive ruling class or start a new life and meet new friends and love interests. Play the way you want and discover what happens next!

UNCENSORED STORYTELLING: It's time for stories to be as real as their readers. Explore complex characters who are more than just pretty faces in dramatic, multi-layered plots and enjoy comedy that doesn't have to be kid-friendly.

ORIGINAL STORIES. FAMILIAR WORLDS: Blackmailed and desperate, you're forced to separate a loving couple at the expense of your good name while aboard the Titanic. But who knew you'd fall in love with the very person who caused you pain?

THERE'S ALWAYS SOMETHING NEW: Continue your story by jumping right into the next episode, or try something different. Science Fiction? Romantic Comedy? New episodes and shows are releasing all the time, so check back often.

GREAT STORIES FROM GREAT WRITERS: Enter worlds created by award-winning authors from movies, television, video games, comics and novels. Diverse and strong voices combine with best-in-class artwork to deliver a refreshingly unique take on storytelling.
Enjoyed this article? Share it!