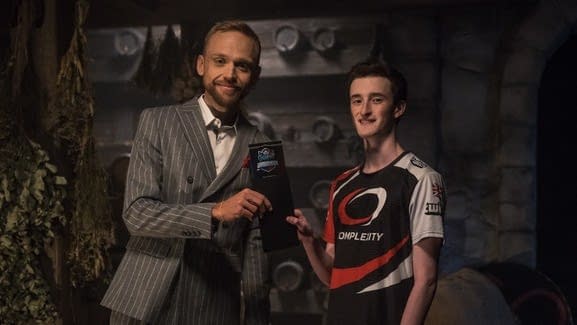 CD Projekt Red have crowned the UK's Frederick "Freddybabes" Bird as winner of the October Gwent Open tournament. This is far from Freddybabes' first Gwent title, but the October Open winner is guaranteed a spot in the next Gwent Challenger tournament.
Just for winning this weekend's Open tourney, Freddybabes has walked home with the grand prize in the $25,000 prize pool, a number of Crown Points, and a spot in the Challenger event, which is the last event of the Gwent series before the Gwent Masters kicks off.
You can watch the October Open stream on Twitch, or check out the final rankings below:
Frederick "Freddybabes" Bird (United Kingdom)
FINALISTS
Frederick "Freddybabes" Bird (United Kingdom) — $9,650
Andrzej "Adzikov" Bal (Poland) — $4,600
SEMIFINALISTS
Andrada "radu.andrada" Radu (Romania) — $2,800
Raffael "GameKingAT" Iciren (Austria) — $2,350
QUARTERFINALISTS
Damian "TailBot" Kaźmierczak (Poland) — $1,400
Mikel "Nujwk" Besga Aristizabal (Spain) — $1400
Kacper "kacper322" Sobkowicz (Poland) — $1400
Paweł "kams134" Skoroda (Poland) — $1400
The next event for Gwent will take place in Warsaw, Poland and will be the final Gwent Open (#8) of the 2018 season. That tourney will be followed by the last Gwent Challenger tournament, which will have a much larger prize pool, and then everything will wrap up with the Masters series. You can find an overview of the Gwent Masters here, the Masters series will kick off later this year.
Enjoyed this article? Share it!