Free League Publishing has released Things from the Flood, the sequel to their award-winning Tales from the Loop RPG. Much like the original, Flood is based on the wondrous worlds of Simon Stålenhag.
The Things from the Flood RPG thrusts the Tales universe into a grim alternate version of the 1990s. Players step into the shoes of a teenager growing up in a decade of change and disaster. Still, life goes on as before. But when teens start to go missing, players have to solve the mystery of just what is going on. Players can create new Teen characters or age up their characters from Tales from the Loop. However, this time around, they can die.
The teaser setup for Things from the Flood might get you some more information:
It started on Christmas Day in 1994. Black water suddenly rose from the land, invading our homes and lives. They say it came from the depths inside the Loop. Whatever it was the Flood changed everything. Nothing would ever be the same again.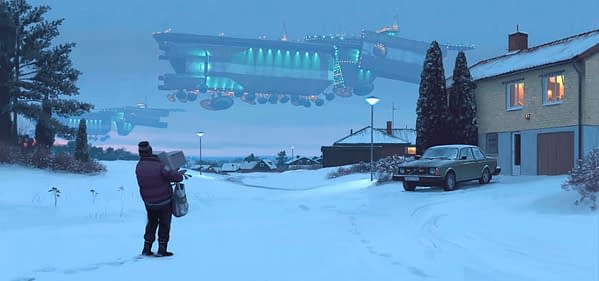 Fans attending the UK Games Expo this weekend can pick up a copy of the RPG at the Free League stand, 1-598 in Hall 1.
The critically acclaimed Tales from the Loop RPG was released in 2017 and won no less than five Gold ENnies including Best Game and Product of the Year as well as three Golden Geek Awards including Best RPG.
You can check out the trailer for Things from the Flood below.
Enjoyed this article? Share it!