Game TV Will Hold A "Dragon Quest IX" Anniversary Stream
This coming Thursday, Game TV will be holding a special 10th Anniversary livestream for Dragon Quest IX: Sentinels of the Starry Skies. The announcement was made on Game TV's official Twitter account, letting fans know that they would be bringing in four special guests to talk about it. They include Dragon Quest IX producer Ryuutarou Ichimura from Square Enix, director Jin Fujisawa from Story Note, director Akihiro Hino from Level-5, and MC Reiko Mihashi. Basically it's going to be a sit-down chat with people who were directly involved with the game's development to go over memories and stories and basically relive all the excitement of the game.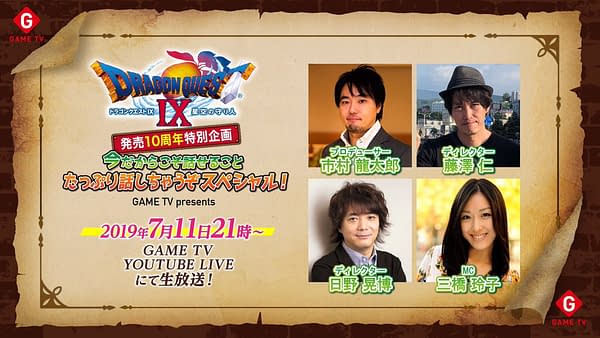 For those of you who may be hoping for a special announcement during the stream, Ichimura already put the kibosh on that by going on Twitter and let fans know this is just an anniversary panel and that none of them had anything to bring to the table for special announcements. So no special editions or anything like that are coming. The stream will take place on Thursday, July 11th at 9pm JST, which will be 5am PST/8am EST that morning. You can watch the entire thing on Game TV's YouTube channel, but no word yet if there will be closed captioning.