During an event, Bandai Namco showed off new Code Vein gameplay, featuring a previously revealed boss being played live.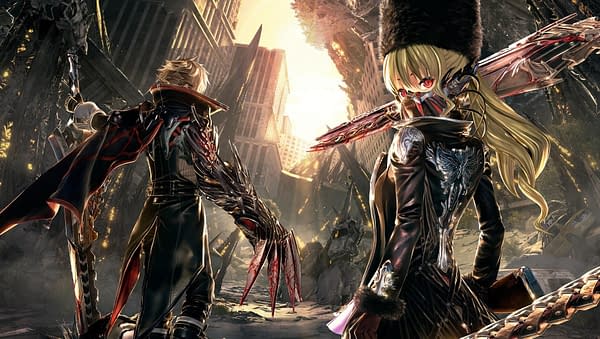 Code Vein, while not the largest release on our horizon, is most certainly finding an audience. There seems to be some who are eagerly anticipating the Action RPG, as every bit of news is getting devoured by a subset of fans. It's not too hard to see why either as it's a strong ol' concept. All you have to say is 'anime Dark Souls' and someone is going to have a pretty good idea whether they will be into what the game is offering.
We've had a few pre-release looks at the game so far, and this latest one is a great new look at a new boss. Recently at a Dengeki PlayStation event in Japan (via Dualshockers), some of the developers streamed themselves playing the game and it looks pretty neat, proving the game has both style and substance in spades. The key bit of takeaway is seeing gameplay of a previously seen boss called the Queen's Knight being played live. It's a pretty brutal encounter too as one of the developers dies multiple times before finally besting the boss. Take a look:
Thanks Giuseppe's Gaming.
I really am interested in seeing if Code Vein can hit its potential. It looks gorgeous and fast-paced, mixing the challenge of a From Software game with a beautiful looking cartoon-y Gothic vibe. Now we just have to wait for a more specific release date. Currently, we are set for sometime in 2018 on PS4, Xbox One, and PC. Hopefully, that date comes soon.
Enjoyed this article? Share it!