Giveaway: 500 Closed Alpha Codes for Oasis Games' Steel Circus
Hey kids! Do you wanna get in on a closed alpha for Oasis Games' upcoming multiplayer sports game Steel Circus? You can with one of the codes below! The company would really like to have you join them in testing out the game, which is why we were given 500 codes to give away to get you in the action. Now normally, we'd do a contest to give away game codes for anything, but because we have just so many at our disposal, we're skipping the contest and we're just posting all the codes below!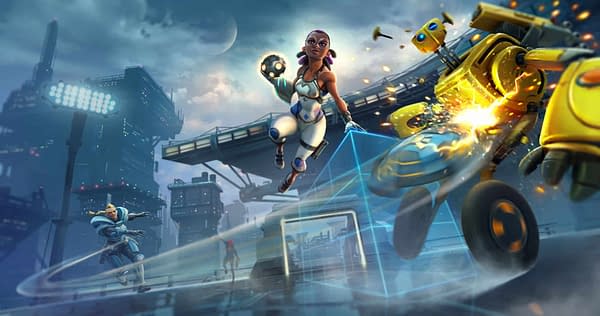 These are available on a first-come-first-serve basis, the same you see other companies and personalities give codes away on other sites and social media. If a code doesn't work, keep going down the list until you find one that does. The test period for Steel Circus will officially kick off on March 9th.
50DMF-4N8E8-7L3JT
0JDHV-KX9WC-V4HGQ
KYT8V-JQRT0-W67Q4
C74HN-T450J-KNJ8P
WXTJA-BI222-AG69T
EVRKB-2GPPE-RXV7P
K72PI-K0KMB-DC9VE
XWA39-FZ6D3-4GBYR
HTYL8-82AZY-W2F9H
V966T-36E9H-R38ZY
8M2WF-I9LGK-H6TVE
IEHGF-G5P9C-KNF52
TVQ2L-5ACJT-M4TYY
VILPH-A6CLE-FKBP9
0B5YZ-RER0W-F6X8Q
HFQZX-H4WDB-FAAM2
IR0XM-VF6W9-YFE3N
HFTJ8-QILK3-VRWNL
JTBVD-L680M-RVI6A
83MYP-QKVC8-T8XPJ
D6GWI-RFQWK-QRMBW
YAIHE-ACBAL-2VW26
30BX7-LW68T-WHZT3
G2D60-0T65Y-C3G94
8NK5F-922X5-5REX4
6KQGG-KZY07-IBWMH
VRV9L-3TXLC-AN2NG
J47GX-T7ALE-IQF55
D4CQ6-B7V0J-GEWRI
ZQ6L4-FVLL6-LC8F5
7F9Q9-P33P3-FTMR5
AN3H4-M73LI-MQNHT
I9B0T-I0WIG-9WC3T
0C3YP-V8CE3-4QRTF
6C0JJ-KHL9D-YE2WC
F7KM3-GFM0L-KRGML
R7YWI-D5ZD0-WJNEG
RWJBT-8Q7F7-NI30Q
5505L-9L0FT-WIGP3
JI3CR-4B0MK-AP3F6
IWPEZ-PTF2L-E8F0W
LTWJX-TQF42-PW5ZB
HR6GN-QPLVH-VFZI3
H0NVY-NNTDK-EIDGJ
7CGAT-Q5P6Z-23WPY
YL9TX-4BGRY-9XMYC
06DPP-LA5D0-0Y439
YW3YG-H8HAY-RXZKB
IJK0Q-RLPIN-EAQPF
ALMAB-MG6ZB-V8AKM
7Y0Q4-YGMPH-B04RG
D2C6I-8FNGA-H8PDH
7G045-2VP4X-F5ZLZ
4M7D2-4VDMD-38MFG
BY0EI-QYVYY-G2TAN
46EEL-QG9D8-R3D2K
9QIRY-TBDK8-RGNP5
2PXCQ-BG8LL-QY6MM
TA8GN-2DDKP-B0LEM
Y28RD-CQERI-T3DFY
Y4B4Y-6F05I-2TEPZ
M5ILA-2H5XT-56LNW
8FC8W-2FRA6-V6FF5
QDIAA-LQZP8-RMVB8
G6CAX-JZIQX-ZFJKY
RXNQQ-0HPR5-R2BVY
07I7Z-J0LXP-EPG30
5I7TE-2J0RD-06H2C
B9FJR-GE7H7-AHFKV
8Z0ZW-YLVQF-9DDL9
XEH3W-9B3TL-GMXFY
B9WGB-QT09G-ZHNJ5
EHHYA-XII7P-NXTMD
W7K8A-0EG6L-80L83
EMNJ0-0QA0N-RWI0T
BH2HG-GYPGN-KIGC9
FKBC0-5MVM9-LL5MN
Z3F5T-MYHKA-RYVQT
NHGLP-TNZB9-YNGQE
ZPPMM-JR5I8-XV6RV
J90FY-I8KI8-NBM6W
52JC2-94THB-XW0XC
KXYMH-VDDAX-RMJJL
BHGJC-RHMK2-94IN5
0YVD0-I20YE-V27EH
WQGKC-ZL7EH-KTALQ
CZIIG-PD4PW-49IRX
ETRGZ-5RRKW-I4BD7
0WM8X-QQ3AM-LWKMV
40939-02HRZ-69XI4
CML0H-R350L-RWFKT
DXI8M-JGPBV-MZT3D
HD5YG-4VCAA-7QAWM
048C4-7NXBH-YXT2V
62PNZ-78A73-8730Q
NB5DD-YLF0A-3ZKDJ
YG6RT-WEPM2-QK8IK
ZDG9Y-FIPMQ-6ZK4N
EH78K-XN8F4-0HPBI
Z2KBA-3WNXA-G4XAZ
JTRYN-2XLE5-6Y3AK
9AGM7-5HKAD-64HI9
690V3-DLG4Z-C4FKR
0B94W-ANLAM-G0VKY
4QRDW-XYKXC-DT46E
AMNJR-XEND0-P8Z8I
QN0PL-4NX3L-XZH0V
VNW2Q-7RER3-94MPW
P8FPR-LRRE4-TTF5R
7HG8F-MDTZR-ZKQ6A
T5XF5-IYGK9-9Y7L8
PEBFQ-G9EX3-27H0B
7XY6C-Y0I30-GCG96
AI9PH-W5QMG-A4IY9
46M4B-73RFW-24370
V7TFN-25RJC-9CPDK
EDEW6-75IJG-JHG3H
8IKZ9-ZPLTA-8XLDH
CJY5H-GM5NE-TDHCQ
8L72R-LV0NX-KAZ4T
N6HCZ-JPYQX-PCT3W
0PBII-6JJB4-5P9XD
7DT8B-DCTZP-B3WWT
FHXTQ-ADM3E-H40RF
H7K39-42Q7V-93ZDN
300GT-CTPAA-VHLNC
TI36Z-DEE4D-ZTCNL
WCCND-9YBAP-M0C5I
Z99G8-JZRK0-GILEF
DJMPM-EIKXI-2IGTR
A2JG6-LTJQE-0E63R
4ELNX-2G6WQ-C5CJ3
7EMM5-MI2Q4-ZT203
P958J-KGWXK-LQ80B
DZJ8P-HVXQD-PTD4A
Q3RXN-6EI5R-IR0H7
0ZVYQ-53T49-F0IQP
5B6N6-PKBJN-H42F9
B0B58-WY842-9W4NT
NZZZF-YQKTA-K52P3
MMTXA-Z7PRF-VFWDP
KYVM6-NMTY2-M0LK7
GDW3F-ZZF5M-6Z2GW
85XGA-IP4ZV-2Q4M6
39IDC-GTJ26-2VN2Z
T6NWZ-PGK7X-YWG5F
V58Z9-NKFAY-P0TBH
0K2ZK-IJW8C-ZVR67
FX536-D3V3V-M45LB
2B0V4-TL54B-KG9TD
FLCM2-3YXHR-VWX3E
TBDPT-89ZIK-9XBA0
MZIAH-E6EMQ-8W55I
BDMNP-69IPA-ZQXFR
R0N8X-I0XJQ-D2CL0
DHB3Z-4745E-RK26L
NJFT8-BL69K-F5GNI
RAF6K-7FVQW-G2LG2
H8KJZ-KA6ED-MKA9B
C22LN-KYV5Y-RLF9V
4HYAI-CZE9H-FKWRM
ZNTAG-LMZRT-FF43Z
7CP8P-VCYH5-HJV69
ZET9Z-9XX2Y-6K0W2
5BN5Y-VTJDP-8H2AL
ZLMEJ-HGWYF-42VBN
GFINN-Z5JC9-NFT4E
G8082-FIV3M-BIK85
W7G5H-7V05G-GR5QP
473W9-ZGMH3-TX36C
636EN-4YWB2-7J3MD
G5EH5-QF5TV-83FX0
WLJCJ-MI7AN-C5ZBI
3X35H-HMCXZ-RNDNH
NF8X6-X08ML-JMA68
55C69-FNEK0-3KE2B
J795T-IAEPX-CPTL7
PKLEP-7QH2I-CRGE8
H2PNJ-Z0M98-M7XC4
CDY36-3YZJV-5V8J6
A8D2C-TCGQH-8PA0F
TYZJC-93QCB-MH3XW
VYWGA-DXTEA-MNXY9
W04CQ-VFYKB-EAKX7
R0HCK-ZA3AX-HZ3G8
RQ2JV-9PXQK-R29NE
F354X-BHNF9-JRVKK
B7D3A-52HAI-WIZLI
7NYLB-D7WPM-2IK9L
MZ66V-23V5Z-Z6V8K
63458-MPTBQ-VMPDV
PERLB-VQEJQ-G3CWR
BGIFW-3IBYT-AFKCK
X78T6-G8DI2-5PA98
J9H6K-T8MPQ-CG6EP
CZWG2-8ARB7-3LW9G
PCN8D-TLTWI-FC8QQ
L4NT7-L3NPC-ZFX7H
D5LLT-QYBH6-HP2RC
NFARX-7GAZW-H7MYC
V4R8E-PJIYC-FFE05
ERDTC-0PV6B-EVBQK
FFLC6-Q2BEH-4BQDG
JTIA6-20WLP-3GDQD
IWJKA-256TR-AHJP6
MRR20-9RHMA-A5DLR
5CIK2-GEWNK-3GF3M
GTXLI-YVE89-XGH9R
TZV32-FR7ZT-DHXB5
8R8HD-BYXP2-LYZQH
K6I52-IRKJI-6GHWF
0TEQH-9588N-0BAEG
H6TJM-ENP23-J6ZY8
BEGBG-B5I68-QW79G
H8JKJ-YTV49-GPJ6N
68DP8-9XY0V-4QCMQ
A8B2X-WFPPT-9QKJN
FT09P-M9NGP-HJIM3
AEFD8-JM7MY-RW6KL
4HKLA-AWLNY-7YWY0
LR0QI-L7KHJ-RJ2AY
J7K9G-B3VE6-HCAXX
ZXJVF-HQW5P-4R36K
HL7FY-JYDYW-YIND3
N2C7Y-JZ4KP-TWQIQ
M96LR-8N2JB-96T33
VTK0T-GXR8I-ZGJA9
VPQ2B-ZTD23-555K2
0XQE0-VVDWJ-CZ3RM
LRVZ7-5HI6Q-ZJNF7
ADAYI-NHN2X-CL9LL
EL9KV-R88QB-780Q8
JH72I-2KB6R-7MMKT
CRAPG-CPY0B-65FR9
FN4KB-NMC87-D43L9
JI88Y-VHP6G-YTI3C
FARIC-ITHZT-BEPE5
RVPC4-5RTDQ-YJQ40
L6IPW-2FXEP-749KX
ATCRQ-4YDJI-A7N40
R0ARZ-86NTM-XBYZB
F4G4N-D4P7I-0HLBR
RF2PF-49CEV-5P5A6
CFJ28-4TYDC-I8Z5J
4WCG3-ZT8JD-LVHPQ
FXHYD-A3M00-FMDKP
B4663-XXDR3-0AJDD
LEDJV-W6NE9-0N0KJ
2XXIH-M6Y5I-HWMGB
2P26T-7QGWY-3BQBZ
4X6ER-T5T7D-CIT74
NGIAE-X99N6-G23WV
G0MGR-JEHBL-JZM98
BXB2H-D399C-JCP43
N2GQL-6EIGR-70KGE
VLDY6-XT20I-78I99
9ZRKR-LW9Z4-HBIBI
KLMIQ-M25JZ-WYQAA
BN8MK-C304T-DAAD0
LGQHR-44Y57-LXKNW
04X3B-XICKG-TIT7L
G27Y9-RRZMC-3JM6J
DLP3J-RV2JY-QMKNK
0B9EX-M88AW-2KZLJ
TMV8G-ZCG68-5RCXP
J4TZH-E97K4-8KF52
888X8-JXFWM-89INN
PDR0J-TTCBQ-67DKD
JRR3D-0FYX8-AW4YV
RRPQH-GKTI7-B7J36
ADAYI-RWKZN-D7BVB
VX9I2-60FJA-IH87B
BW8X5-JMVIA-HG59F
WKMNM-HZPC8-DTHBJ
V0EGQ-VGF9M-DT8FX
2EE3L-ZKM6E-6TKZT
KA5AE-6LWR8-HLHXV
TQD7C-V0M5L-DIENF
57E2Y-BMNNY-Z7VGT
LCAC8-8I6I0-JKKYE
BAIB8-WBA02-PLR4W
7FY7R-H9ZDZ-H7QW8
VPHP6-K23PT-LMHQ6
MRZJ9-66LYF-PZYM4
8BWCF-YGX47-ET8JK
B6EF7-FVG2B-089FI
9E9QW-4WLYA-N5DRJ
L8N6P-DZY99-APGTV
MWFCN-LM5BD-VC3CR
3NY5C-IMN7B-7NIB8
G6GIA-CL4L3-8M48T
EMYBV-ACM30-FMKKX
GJLYN-WPTB0-CBJW2
XCB5Q-DHEQ2-BRV6L
7RREM-BQWWL-W2ITM
995RN-VIYFX-T6M0I
J5EFI-JZ52A-X7LD8
EXPMN-9BRCP-F23ZF
VGVP5-4YAAE-KWF5I
D5MZV-HHJI9-TDIPA
P6K3Y-0DLAX-XW0RG
PIXXJ-02E64-60FEW
8ITTN-3TXAV-LQXGV
GZ5Q7-TEKW8-62W65
9PKQG-0HX7A-0ALGR
99LM8-0PHTI-4MA3W
A5XPE-QK3Z5-V8CH7
ZLP9Z-T56MV-9XZQF
CX6N6-FCMAK-PR82B
7DXTX-4X20P-MILKE
CCRPP-H74TB-D2X5N
TY552-WG6XR-EW45W
G7JYC-0LPR6-C4BYW
L8IMV-JV2VZ-2THH5
NE7IL-6QI9K-H23FC
J3KGY-FYA0W-2YC3Y
Z6HG4-G6LP8-9JET7
GQL20-WELL9-I6V3R
PXEYM-94CW2-7XTFJ
NMMTF-AQN9Z-RAB65
QMZA9-9EGHN-4JLJA
J6JAE-AZGXD-96XVL
GZ29C-RDKTC-2H6MA
9YG3E-IJ2TF-MPPPK
ICKCC-9MF2B-A26FA
GA909-RTZ20-M2F6T
N6JTI-RW8B5-2TJVE
RIV3A-TQEN9-5BMGB
A0NKL-N0V4W-VAB09
YG6RC-FTG6X-NYARY
A6WCG-KRZ24-ZJGM0
56FKM-DJKEG-M0IYN
6Z9GV-AEHB8-08ZQV
DE476-5RYGH-HE6XH
ZZ2BW-FYZ75-3E094
XK98B-AEYNG-6DG2Z
F7KM5-8RLXE-MKTZJ
9N034-6R2M5-FJAT2
7N2P5-BN6Z5-BXIID
4WL6A-DEKJ4-7LYEA
2H202-QIG9X-Z2AP3
7XM2Q-P64BD-9GFC5
FB0TY-R2JVE-R0AL8
MGNFH-8G9LB-7KG2V
GV6IB-5W0N8-N7IGW
2NV0B-Q5MZF-NNWXH
ZKCYI-FERCD-6QQTG
BTAAJ-GTW27-VPFNQ
K6ZAC-MPYI8-58GQ7
WCMB5-3Y60N-4A556
A5K95-X0ZT3-T202E
EBZHV-523I5-4M7WG
BC3FM-JIEHZ-ZNNWA
KCD9R-KM67R-78RAE
YVECI-J3HN9-MRM0A
245Q2-3VE47-KP9PI
HYJJH-246LF-Y8TEN
EP9RE-CGQZG-X5NAB
9WAAJ-8E8F0-BGYJJ
797E9-AN836-E9RWW
K0RVQ-FXF9H-PD7VA
Q6AC8-WIKEX-KNLZG
PK0MY-AQR60-9AWCJ
5JC6Z-K7PAX-K8EFZ
ATACV-BD04T-3M7YJ
P2D3F-V5MRL-739NZ
C977P-97ETL-DMWEF
Y8H6H-K3L6J-T9H48
D44EA-M428F-YE8RY
WQPPL-KIHJI-4R263
QR8C5-YBMV8-5F5XT
9NVPE-A99HL-N30B6
QT0JN-DAZ99-2E83X
IV9ZR-E9GI8-GFK50
CZ5MR-JIBXI-WIXHE
TXP7M-7Q5WJ-JQDET
DMJI7-F5NGZ-Z4KT7
9MHIF-LLGTL-M52NC
7KEYH-8227E-8H349
7PM56-IPJZZ-H2KIK
IH7EZ-JWQTK-5XHQT
76C2D-7F685-DITQ4
6PD0J-CWG6P-B7RDP
HZDEB-76F0N-TJ2PW
HKWVI-FVYQZ-Q9IIQ
V0L9D-WA2YD-5QB55
N0M55-I3R5H-PNBFG
LA75F-2IH33-N3M58
GFV7G-HDG4I-NDCVE
YF6DT-HLXF7-FBPDB
MQ9B5-CP2H2-KB660
5N82Q-ZPW4K-I5NID
NRDZ8-I2D9N-KJXVM
REDYB-PHT2R-7K2RY
TZ7PN-MHMY8-4B822
T089Z-2H8CJ-HKX3Y
T4D8K-I27WJ-HXQEK
F5IF9-42HT6-67QKM
VIQLC-9PCPB-G0Q98
X9HEA-978ET-5F273
0RIRE-6F9DY-XWADP
9XHJQ-QN56L-HB6LB
Y7TCY-MWZCT-56FGX
AX8FC-ZJWAM-3IRZZ
R554A-E75Z5-7YW2T
7NR6D-ILB2D-W0N4J
N0FC7-RTPJI-DW5DC
NQTE5-AD7QZ-9JJWY
IJC0N-58JTW-A5HV6
RF5G3-592EV-IAN5E
E78FT-69L39-N6WW5
EC08F-FD9K7-7QPHR
5W4JH-3745L-WK6IE
5PH3F-2HRXD-7H6WL
DE5I6-JHTEQ-TY3BM
HJ7N4-P03G2-D7EKB
ITDWX-GLKKQ-08V80
LX4Q7-08D4D-YC5G0
9TRXA-BW46E-PFE6A
8KTV6-8LA5C-30IXF
798B2-4DGHR-4R8M5
ZY88A-HRYEZ-NH9G0
IKX7G-8CGIT-889H2
RZ0VR-FZMWN-6KNFY
8C7XL-6A2P3-VD540
WBNWX-W5CT8-3PQBL
KYJE4-I4TZH-7KTE7
GV7AW-NXAPD-YKWIJ
9M2TI-TTL27-RWK23
ZP9V9-N9NJM-TQWCN
GP3J3-RM58Y-M3RJV
MDP99-9R0B3-6BRDH
MEI56-XG6FD-P9BAW
T75AX-YYLQH-7F98C
X00R7-2EEWG-RWRXQ
9L25K-9QDFG-PRFB5
JNCP5-TNJ99-EZ9GT
VTAWX-7NTXW-VR5DE
C3BG9-DBGJN-WQYY0
IAGRI-E95WK-AEWRI
I58TI-DM9PV-P5YTT
Q26W2-TKCKW-GVFXC
GYKIJ-CDQWP-K7R2W
A4PQK-3RWWN-L4L5A
W5V0E-WVG6X-DRFPB
H3NL7-CZLDV-LK8M6
G80XN-FGC88-Q436N
7TD5Z-IM3DV-WH5TT
2YA8I-HQG0M-FMIXY
3TNIK-7KNXA-AKXY3
4W2T3-2YRZG-I8KMR
CA8V9-L6ET9-7NBWV
4A2D9-ZVMZG-AFR6Y
YV8K7-X3AXE-ABKK7
JE3LQ-N3D8M-P4KZD
DN4T8-240LA-29RMC
7874Y-XR0LH-XEVYE
XBXYG-0D4IG-3DGHX
TAXQQ-004Y7-BX9WL
QI5NQ-6AV33-WGPJX
WVH4N-MZ0KT-DJW9B
6XL3V-PPL56-B96V8
RQVI9-X558A-XHDV9
QA554-L6WKG-YT6FP
YQ0B2-T850I-952AZ
WHC2I-93IIK-FHGEI
CW4F4-7G8L3-A756E
LL2L7-RM56M-Q2GGV
CT9N0-8CJXH-FT3IW
XPDRY-TJPW5-AD299
FMJZI-2KN35-KWA90
27IPF-8TG05-6PHA0
ZA6V3-IE248-GETHB
M7ZJY-KKI2X-AMXAM
EM3IC-ZHWH0-PPZKI
HJ60E-CTK0P-MVQ02
444NP-RJQPL-95H7W
N099M-CWCHY-3H3TC
QVE0I-CHYMZ-A23JM
MZPZQ-MKP52-C4FG0
4A94I-Z53XH-79RG3
JTMKQ-QTCLC-ZV8Z3
H7CQP-A8LRV-XG5Y7
GQR7X-B39PK-PC6FB
DQB87-DEBZQ-LV63F
WIYEI-D9X9C-4ZVFZ
ICR66-BW7TG-QWP3V
A97EB-IA4CV-KIT0B
E46VT-QF6IT-JV5FI
5WLQ5-CPE4A-PLJ65
QNN3R-8AV5J-BMBXB
CW9WJ-AXMX6-2ILDR
RPPAH-NJNX9-7P0QQ
GZV7Z-YIIP3-WGFZI
N955M-43C6M-EQMH9
PDB6E-KT0IG-F56AV
KDP6E-LBDHY-TIEXI
Q3EWJ-789R2-B0ND7
6DA86-V3RLP-DJWE7
4QCTD-6KPFW-DRZZI