Would you like to win a Star Wars bundle, filled with tons of awesome gifts for the Star Wars fanatic in all of us? All you need is a Twitter account. We've partnered with eBay to give away a Star Wars Triple Force Friday. The company is basically the largest Star Wars store in the galaxy, and they're partnering with us to celebrate 42-years of the franchise with a special Star Wars bundle giveaway of "rare, retro and right now" items for one lucky winner. So what's all in here? This is a pack valued at $500 worth of merch!
Star Wars #38 Solo eBay Exclusive Jesse James Comics Marvel Comic Book Variant
Star Wars Classic Scene Circle Men's Graphic T-Shirt – Size L
1979 Kenner Star Wars Action Figure Framed 11×14 Original Vintage Advertisement
Hasbro Star Wars The Black Series #01 Luke Skywalker Pilot 6" Rare Action Figure
LEGO Star Wars Poes X-Wing Fighter 75102 Building Kit
Monopoly Star Wars Rare Special Han Solo Edition 2018
Star Wars Sphero BB-8 App-Enabled Droid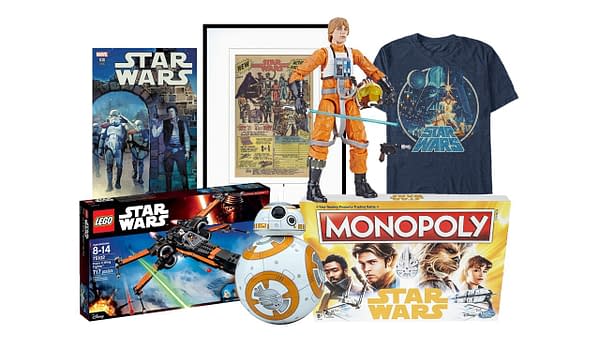 So now that the promotional part of this giveaway is done, you may be asking, what do you need to do to win this? In order to be eligible, it just requires you to do two things on Twitter. All you have to do is follow our Twitter account and also retweet the social media post tied to this contest. You can't miss it as it will have the same image as the one here, and the hashtag #BCStarWarsPack. You have until next Tuesday, October 8st at 10am PDT to do so.
That's all! Literally, we're only asking you to do two things that cost you zero money and little time on your part, and you could win a Star Wars bundle. Now before the complaints start coming in from people who don't have a Twitter account… it's 2019, Twitter is free to use. If you're reading this post, you have the capability of making a Twitter account. Emailing us or complaining in the comments that the contest is "selective" or "unfair" will not help you win. When we choose a winner, we will be checking that you have both retweeted our post and that you're following Bleeding Cool's official Twitter account. Those who have not done so are not eligible to win.
But hey, if you don't win, eBay has you covered with a wide selection of unique inventory from A Phantom Menace, to A New Hope to The Last Jedi! Within the past 5 years, 3.8M Star Wars LEGOs have sold on eBay. Star Wars action figures come in at second, with 1.4M sold. To celebrate this Triple Force Friday, eBay released 100 rare and retro collectibles and merchandise, which you can check out here. From memorabilia to rare comics, toys, collectibles, video games and more,, eBay has something available for every type of Star Wars fan.
Best of luck to those of you who enter!
This contest is only eligible for residents in the United States and Canada. A winner will be chosen at random. Entry into the contest does not automatically guarantee you are a winner.
Enjoyed this article? Share it!