Gloomwood is a new 1st Person survival horror shooter game from New Blood Interactive. The PC Gaming Show released its teaser trailer today. You, the player, have to make your way through a dark, gothic, steampunk city and sneak by or fight your way through a variety of enemies in robes.
https://www.youtube.com/watch?v=cUx0IxuoCgE
"Gloomwood is a stealth horror FPS that follows your mysterious abduction to a forgotten, twisted Victorian metropolis in the midst of a horrifying transformation. Wield your canesword and take to the shadows as you uncover the accursed mystery hidden within the fog.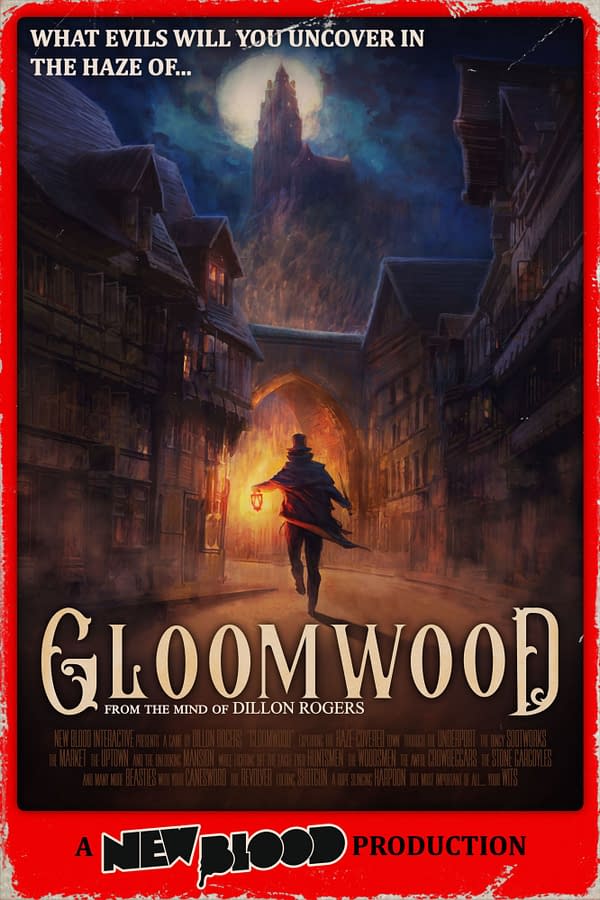 From the producers of DUSK, AMID EVIL, and FAITH comes a frightening, gothic immersive sim that will have you explore haunted streets, dark tunnels, and decadent mansions.
An intricate, hand-crafted city with freeform exploration – from towering rooftops down to hidden passages, the routes you take and paths you make, are your choice.
A Detailed stealth and sound system that tracks your light visibility and propagates noise accurately through the world. Tread lightly. Or prepare to get loud.
A unique arsenal to meet any situation – a stealthy canesword, six-shot revolver, folding shotgun, hand-placed traps, rope-slinging harpoon rifle, and more.
In-depth player interactivity, from leaning to eavesdrop, peeking through door cracks, checking the remaining bullets in your firearms, and mantling onto ledges. The town is full of objects to pick up, throw, climb and smash and use to your advantage."
Developed by Dillon Rogers with New Blood, the game, whose graphics look a bit basic and straightforward in this first trailer, seems to have a lot of classic PC stealth games like Thief in its DNA. Dark corridors, fire-lit torches, what look like dungeons, sinister bad guys in robes who attack and slash at you, and a Palpatine-sounding bad guy, there is no doubt about the genre of this game.
The Enigma of New Blood
New Blood seems to be a slightly enigmatic new games company. Their company motto seems to be "It's whatever." Their website address is called "We Hate Money" – the link takes you to their Steam page. You get the feeling they want to throw down some kind of gauntlet, a sort of new upstart company with a massive chip on its shoulder. They currently have eight games available on the Steam store: Dusk, Unfortunate Spacemen, Ultrakill, Amid Evil, Faith, Maximum Action, and Super Galaxy Squadron EX Turbo on top of Gloomwood. Their Steam page carries the logo, "IF WE MAKE 'EM, THEY GOTTA BE GOOD, RIGHT?!" They certainly seem to be wearing their tastes on their sleeve. Their titles are all Old School-style genres that hardcore gamers with nostalgia in their hearts carry a torch for adventure shooters, horror action, pixelated horror adventure games from yesteryear,
The demo for Gloomwood is now playable at gloomwood.com
Enjoyed this article? Share it!