'God of War' Launch Day Event is About to go Live, Here's How To Watch
After all-the-hype and excitement, launch day for Sony Playstation's latest God of War title is finally here. The next chapter in Kratos' saga is a familial one, and it looks absolutely gorgeous.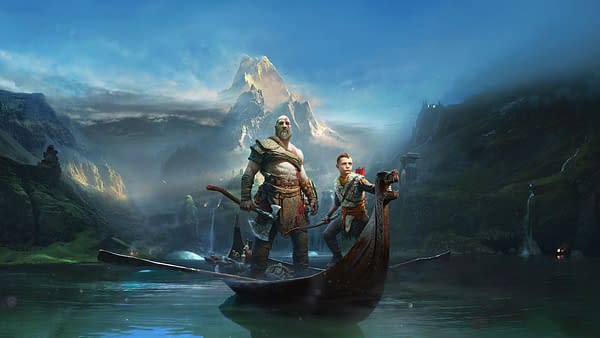 The company has been posting a lot lately about a special event that starts at 7:30pm PST on their live.playstation.com, and here's where you can tune it to see whatever it is they'll be livestreaming when it starts.
And if that doesn't work, here's the twitchstream:
Watch live video from PlayStation on www.twitch.tv
We'll be updating throughout the event with highlights, and of COURSE will give you or first game play report as soon as the title goes live at 9pm PST tonight.
The show is happening live from Santa Monica Studio, current guests are art director Cory Barlog, and the voices behind Atreus and Kratos, Sunny Suljuc and Chris Judge!
Turns out that Sunny didn't know it was a game he was auditioning for, and he was the first pick to play the voice of Kratos' son, Atreus.
There will be an exclusive skin that'll be revealed during the stream at some point that you can enter a code for.
Some of this early art sure looks like Travis Fimmel's Ragnar from Vikings, and it fits perfectly.
"Even 8 months ago, we were tweaking things to make him look right. Its a four year beard."
"I asked the art department to design Atreus as he would look at age 10, we used some influences from Legend, he sort of looks like one of the characters from that."
"For me, it was about trust. One of the first scenes Sunny and I did was quite an emotional scene. I wasn't sure how far emotionally, we wanted to take Kratos. So I went to Corey, and asked how far from the original Kratos he wanted to take this, and he said to 'let it rip'."
Some footage shown of Chris and Sunny recording their vocals for the game, wow. I'm completely blown away already by this young actor. We know how good Chris is, and seeing his genuine reaction to Sunny is incredible.
Guess this means composer Bear McCreary will be there too!https://twitter.com/corybarlog/status/987146217481109504
There will be some God Of War emojis hitting IOS and Android next week!
Sunny talked about seeing the Atreus Funko Pop and how excited he was to see it.
Chris says he wishes they had another week before the game releases, because he's enjoying the space, the celebration for the team behind the game.
He mentions that walking around Santa Monica Studio seeing everyone smiling and happy was weird, and there was laughter
The next two guests worked on the Combat Team, designers of the fightin' portion
More depth in the fighting, "it's crunchy"
Atreus will sometime come in to assist the combat, tripping people or choking them
The axe is capable of so many other things in this title, and there are Runic Attacks too
Questions are being asked now from a 'mysterious forum'
"Kratos is the same Kratos no matter what difficulty you're playing on."
A question about the mechanics of the Leviathan Axe results in the guys answering knowing exactly who asked the question, and shouted out to him saying they "love his videos", so that was kind of cool
YESSSSSS a photo mode!!!
Oh hey, hi Bear McCreary sitting there with his hurdy gurdy (which he totally used on Black Sails, and Constantine)
Corey says he drugged Bear and brought him into the studio to get him on the project
Turns out that Corey named his son Helo after Helo on Battlestar Galactica, so that's pretty perfect
"I need a theme that's pretty, I need a sad theme, for Kratos and his son."
And now we go on a tour of the studio