Gamestop is apparently going to launch a new game rental system, which may be either the most brilliant idea for them ever, or a giant step back to the 1990's. (Even though we know a number of people who would like to go back to the '90s right now.) Below is a leaked image from NeoGAF where Gamestop has named the program the "Power Pass", where people can pay $60 for six months of "unlimited gaming". How the hell does that work? The pass allows you to come in and check out one of the pre-owned games at your local shop, which you play for however long you want, then return the game to check out something else. The pass holder can continue this until it expires, at which point they can renew the membership or drop it with no questions or fees.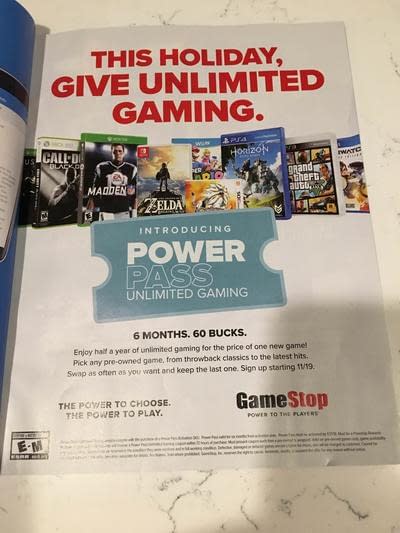 We're confident there will be some sort of ID system involving a card just in case your membership expires and you fail to return the game, even though the finer details of this aren't really revealed, there's no way they wouldn't do that kind of system to make sure they get their product back or make a buck off it. Signups for the program look to be set for November 19th, just in time for the holiday season. Whether or not it's a success will be interesting to watch, as well as how it will affect Gamestop's regular business as a whole. One thing is for certain though: this corner of the industry hasn't been growing, it's been stagnant and shrinking for the past few years. If Gamestop has figured out a way to revitalize their business structure with a rental program, it could go a long way to helping them sustain in a market where more people are buying digitally.
What are your thoughts on this? Would you sign up?
Enjoyed this article? Share it!