For those who are into the long game of Monopoly, Hasbro has answered the call by giving you the Monopoly: Longest Game Ever edition. The designers have made an insane gameboard with two rectangle rows going all the way around the board once and then again with an inner-sphere of spaces. It has 66 properties, three of each location, as players go around the board in either tortoise or hare tokens. There's only one D6, no doubles. And even if you run out of money, bankruptcy won't get you out as the rules allow players to rip the bills in half along the dotted line to use throughout the game. The only way to win is for one player to own every single property. The game is currently on sale for $20.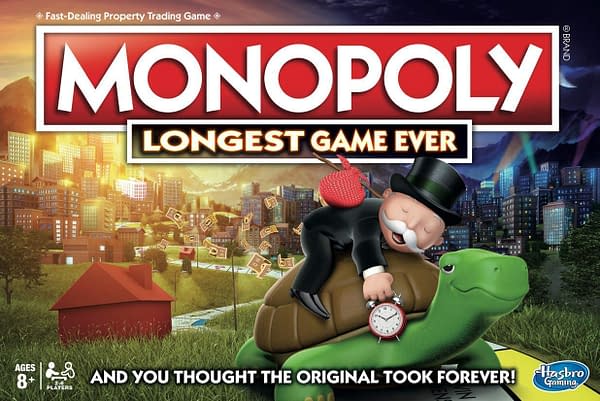 LONGER GAMEPLAY: Even bankruptcy won't get a player out of this Monopoly game! The game doesn't end until someone owns every single property — and there are 3 versions of each in this board game

EXTRA LONG GAMEBOARD: Believe us when we say it's long. It has 66 properties. And there is only one die; no more doubles. So sit back and get ready for a long time to get around the board

FUN FAMILY GAME: Gather friends and family together to play (and play…and play…) this Monopoly board game. It ends when a player owns 16 streets, 4 railroads, 2 utilities, and all the properties
Enjoyed this article? Share it!