Children Of Morta Adds A New Playable Character
For those of you who have been enjoying Children Of Morta, you're going to be getting a new playable character to spice things up. 11 Bit Studios and Dead Mage revealed this week the addition of Apan – a seventh playable character joining the party. You can read more about the character below and check out a trailer with screenshots of them in action, as the character design came from a Kickstarter effort from a couple of its backers.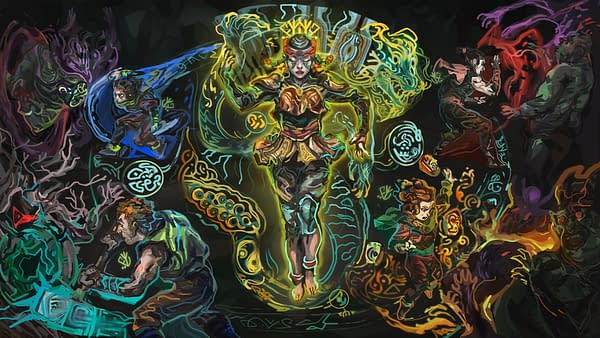 Apan – known as Clan Mother in her homeland – came from the far north of Mount Morta. She is as skilled in providing vital support for companions on the battlefield as she is in wielding a sturdy staff. Her weapon's reach makes Apan perfect for delivering deadly mid-range strikes, her special Asva Pulse dash ability leaves opponents hindered in the dust, and her spells cover a large area of effect. In defence, all of the Bergsons can take advantage of Apan's medical knowledge as she also boosts the effects of healing potions, and a new mechanic lets the family gain shields from items, abilities, and Apan's Rage skill. Simply put, Apan's presence makes them all stronger, especially in battle. The exciting new character design was created by one of Children of Morta's Kickstarter backers and his partner, who both believed in the project since its very early stages.

Here's what these backers – known as AgaRar and GlueBubble – had to say about the idea that inspired the Apan's creation: "The idea for Apan came from the brainstorming of myself and my partner. We originally made her an orphan, but later changed her to a mother to better compliment the Children of Morta story and family theme. A strong leader of nomadic healers who allies herself with the Bergsons to aid them in their fight against Corruption. We hope that our inspiration, and Dead Mage's hard work, translates into a character that you all will enjoy for years to come."