Some awesome news to cap off our day: Hasbro and their subsidiary Wizards of the Coast announced a new trading card game for Transformers. Officially being called the Transformers Trading Card Game, the company will show off four specific cards at San Diego Comic-Con next week, where fans can snag select cards in limited quantities before it officially launches in the U.S. and other select markets later this year. Here's a brief description of the game and the Autobots Starter Set and Booster Packs, with a quote from WotC from their press release today.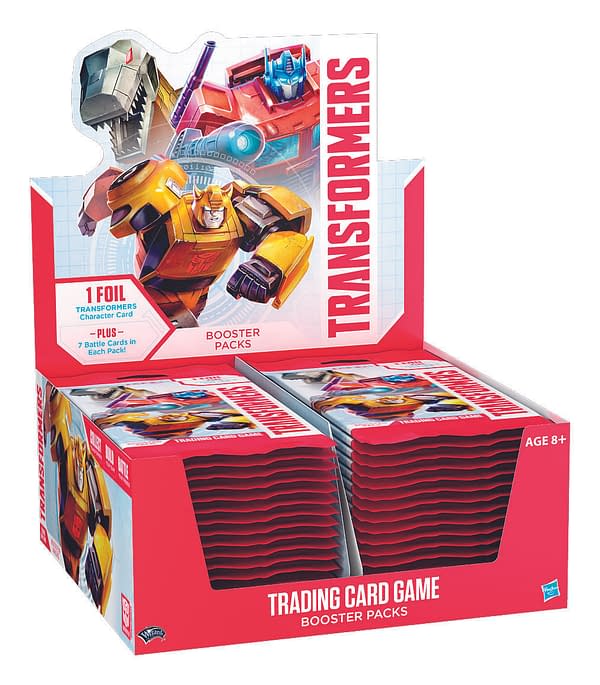 The Transformers Trading Card Game is a fast, easy-to-learn action battling card game designed for two players. Players build a team of Transformers character cards and power them up with a customizable deck of battle cards. TRANSFORMERS character cards are huge – character cards in the Autobots Starter Set and Booster Packs are twice the size of standard playing cards, and can be flipped from bot mode to alt mode and back – and feature premium printing treatment on one of their sides. The deck of battle cards features Action and Upgrade cards to enhance Transformers character cards.

"The TCG format lets us pull Transformers characters from across the brand's massive history. From Bumblebee to Sunstorm – the game is digging deep into the Transformers lore," said Drew Nolosco, Transformers Trading Card Game Brand Manager. "We can even focus on different aspects of the same character. Optimus Prime, for example, is immensely powerful in combat, but he's also a master tactician. The Transformers TCG will let players explore the characters' depth through engaging and tactical gameplay."
Just off the preliminary information, the game has the potential to be really awesome, and having a built-in audience of Transformers fans will give it a boost rather than starting a fresh IP from scratch. The real trick moving forward will be getting the word out and teaching people how to play so they become interested. Hopefully, we can grab a set for ourselves coming out of the con to give you a preview of what the game will be like.
Enjoyed this article? Share it!