Hearthstone Reveals Its Newest Expansion In Scholomance Academy
Blizzard has revealed the latest expansion for Hearthstone today, as it's time for you to go back to school with the Scholomance Academy. The latest expansion brings with it a number of changes and additions. The first being Dual-Class cards, which saves a bit of time and creates a whole new complex level of competition was there are cards that can now be used by two different classes. There are a total of forty, which you can read about the combinations below. You will also have a new keyword in Spellburst for special combinations, and have a new Studies feature that will allow you to Discover a card immediately and reduce the mana cost. A new login reward with the 17.6 patch will give all players two free copies of the Epic Neutral minion, Transfer Student. You can read more and check out the announcement videos here as the expansion will go live sometime in August.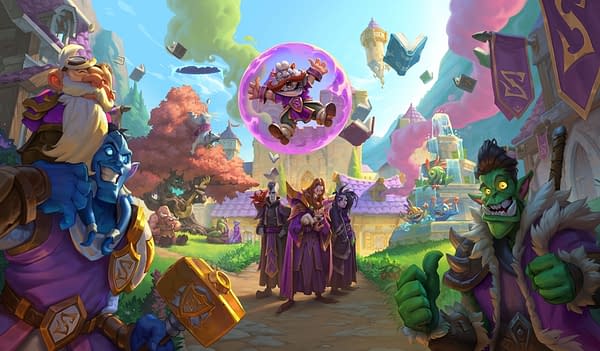 Scholomance Academy is renowned for providing its pupils with a richly varied magical education across multiple mystical disciplines. Dual-Class cards embody this cross-pollination of learnings by mashing up unique mechanics inspired by both classes' strengths, unlocking a whole new spectrum of gameplay possibilities​. These Dual-Class cards make up 40 of the 135 cards to be released with Scholomance Academy. Each Dual-Class combination also includes a shared Legendary minion—that course's professor! The 10 Hearthstone class combinations are:

Druid/Hunter
Hunter/Demon Hunter
Demon Hunter/Warlock
Warlock/Priest
Priest/Paladin
Paladin/Warrior
Warrior/Rogue
Rogue/Mage
Mage/Shaman
Shaman/Druid

Scholomance Academy introduces a new keyword: Spellburst, a one-time only effect when you cast a spell! With a Spellburst minion or weapon in play, casting a Spell will activate its Spellburst effect. Spellburst minions add a new way to combo, play, and spell-blast your way to Legend! Studies are new spells that allow you to Discover a card immediately and also reduce the mana cost of the next card you play of that type. At Scholomance Academy, dedicated study is rewarded with power! Scholomance Academy marks the beginning of the second phase of the Year of the Phoenix. Between now and the next expansion, you can expect several major updates from us, including balance patches, new Battlegrounds Heroes and minions, a seasonal event, and what was previously spell-locked—a new solo experience and Battlegrounds feature! Let's not forget—a new game mode is on its way as well! We'll have more details to share on these exciting developments in the months to come.