Hero Collector Reveals New "Star Trek Online" Starship Models
Hero Collector has a couple new starships to show off from Star Trek Online as they made models of the Chimera and Gagarin class ships. The company made both of these to hit shelves sometime in 2020, taking the look and feel of them from the MMORPG from Perfect World Entertainment. As well as the designs made by Paramount from both Discovery and Deep Space Nine. Both of these ships join the U.S.S. Enterprise NCC-1701-F model from Star Trek Online, which is available now on their website. Here's a little more info on the ships.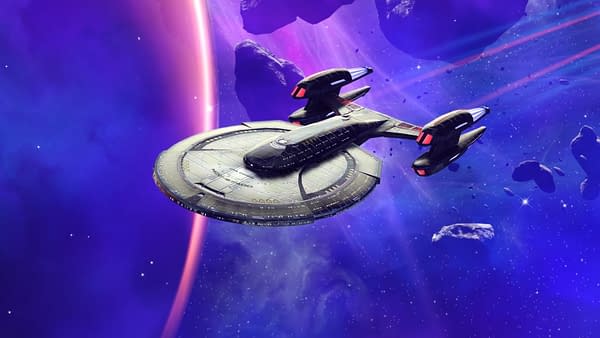 Star Trek Online players may remember the Chimera-Class Federation Heavy Destroyer from Victory is Life, the game's exploration into Deep Space Nine. This massive Federation starship was commanded by Nog, Starfleet's very first Ferengi captain. The ship will be released as a loving tribute to the actor who brought this character to life in the show and within the game, Aron Eisenberg. The Gagarin-Class Federation Battlecruiser is another powerful Starfleet vessel that was released by Star Trek Online's ship designers last year to celebrate the popular CBS series, Star Trek: Discovery. Hero Collector has recreated the Gagarin-Class Federation Battlecruiser and Chimera-Class Federation Heavy Destroyer in die-cast, using high quality ABS materials. Each model will be hand painted by the company's artists with an incredible level of detail.