Interview: D&D-Inspired Clothing Line Cantrip
Those in the D&D community may have noticed a new clothing line spring up over the past couple of months as Cantrip has started making the rounds. This is a brand new clothing line inspired by the tabletop RPG, made to look geeky yet fashionable. The company officially launched this week, and with it, we got a chance to interview the people behind it. Same familiar names in D&D circles as we chat with Ahren Gray, Anna Prosser, and Nathan Sharp. Talking about how they got into the game and becoming friends, to starting the clothing line, to what the future holds for their brand.
Ahren Gray, Anna Prosser, & Nathan Sharp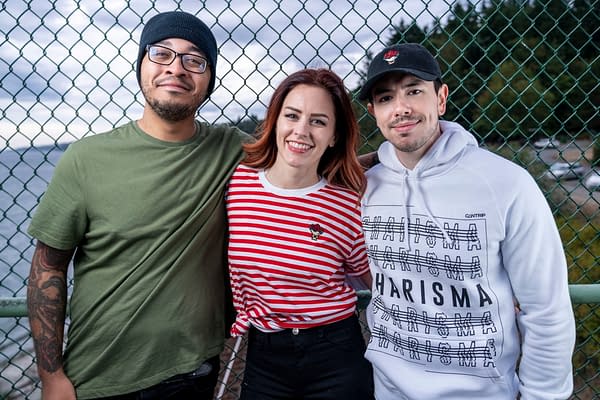 BC: How did each of you first get into RPG's and tabletop games?
Ahren: I had spent most of my childhood playing an MMORPG named Runescape, an online game containing many story-driven quests and surprisingly rich lore.
Anna: I've loved RPGs all my life, but my first TTRPG session (2nd Edition D&D) was live on Twitch with Misscliks!
Nate: I played a lot of JRPGs growing up, and I fell in love with D&D the first time I was invited to play with some friends.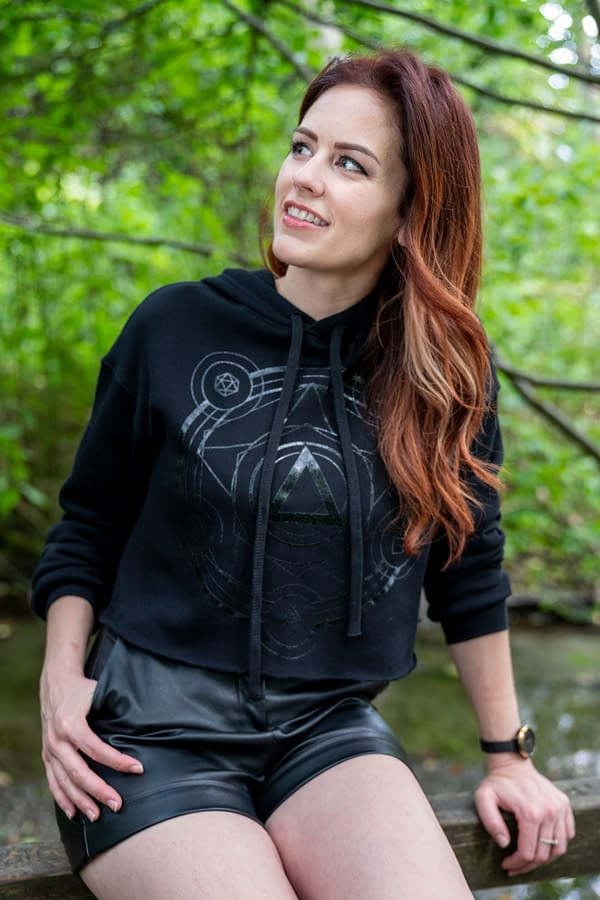 What were some of the titles that stuck out in your minds over the years?
Ahren: The Elder Scrolls Series, Halo, World Of Warcraft, Gloomhaven.
Nate: Pokémon, Ni No Kuni, Darksiders, Zelda, Ragnarok… hours and hours and hours and hours of Ragnarok.
Anna: Warcraft (the RTS), Tomb Raider, Zelda, recently Horizon Zero Dawn. Does this have to mean video game titles? D&D, Dungeon World, The Dresden Files, The Stormlight Chronicles… stop me.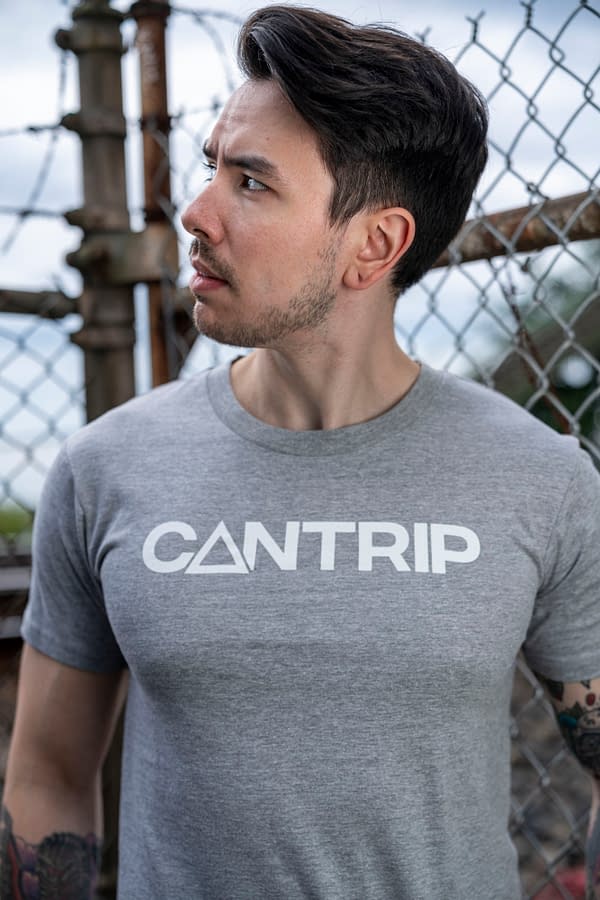 When did you all come to meet each other and eventually become friends?
Anna: Nate and I met through playing D&D on Dice, Camera, Action, the live D&D show streamed on Wizards of the Coast's Twitch Channel. I met Ahren through Nate!
Nate: Yeah, Ahren and I have been working together on my own branded merch for a long time. Anna and I had this concept for Cantrip and some ideas for designs we were playing with and I knew Ahren could translate them into something actually sick, so we got him on the phone.
Ahren: It's actually funny! Anna and I actually met in person for the first time the day before we had announced and soft-launched Cantrip at PAX West, while Nate and I met for the first time the day before I traveled with him on his east coast tour in 2018!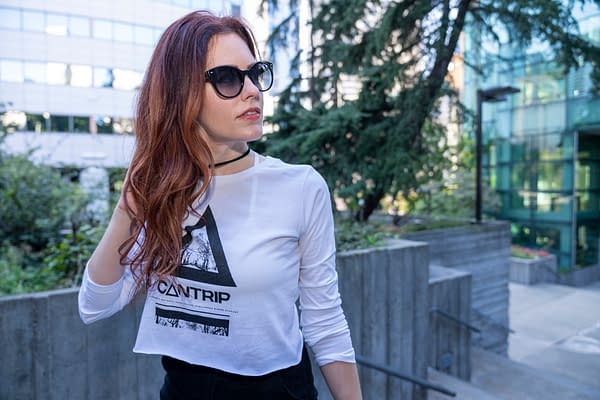 You're each involved with gaming and entertainment these days. How has it been for each of you to grow your brands and also support each other in their endeavors?
Anna: I guess it's easy to see the competitiveness of entertainment and think it may be hard to balance personal success with group success or propping up others, but I think we all agree that there is more than plenty to go around, and when your friends have such varied and amazing accomplishments, it's pretty easy to lift them up. Like, Ahren just WROTE A BOOK! (Being Absolutely, Positively, Definitely Okay: A Book About Self-Acceptance)
Ahren: (BLUSH) Okay, but Anna just finished hosting her fourth Pokémon World Championship and producing at TwitchCon and is hosting at BlizzCon in a few weeks.
Nate: And I'm really tired.
Anna: And Nate likes to post secretive images on his Twitter and then delete them which may or may not imply ANOTHER new album release is coming up.
Nate: Also we all just launched a clothing line.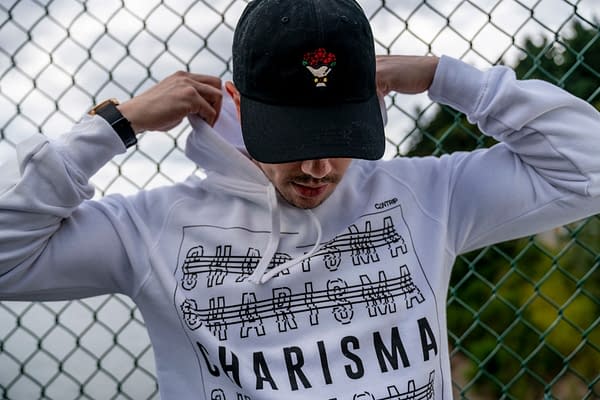 Speaking of which, how did the idea come about to start a clothing line?
Anna: We had this desire for clothes that felt subtle and stylish, but still let us cleverly show off our fandom and invite conversation about it for people who noticed. Honestly we kind of didn't even think about the business at first, just the fact that we wanted the clothes to exist.
Nate: We wanted to wear things that looked cool to a passerby regardless of their knowledge of the reference, but also make really cool nerdy things that made us feel like ourselves. We'd all mentioned wanting clothing like this and we were finally like, "Let's just make it."
Ahren: When I was on the Paid in Exposure Tour with Nate, I had mentioned the idea of working on a line and Nate texted me like a week after a tour like "Hey were you serious about that clothing line?"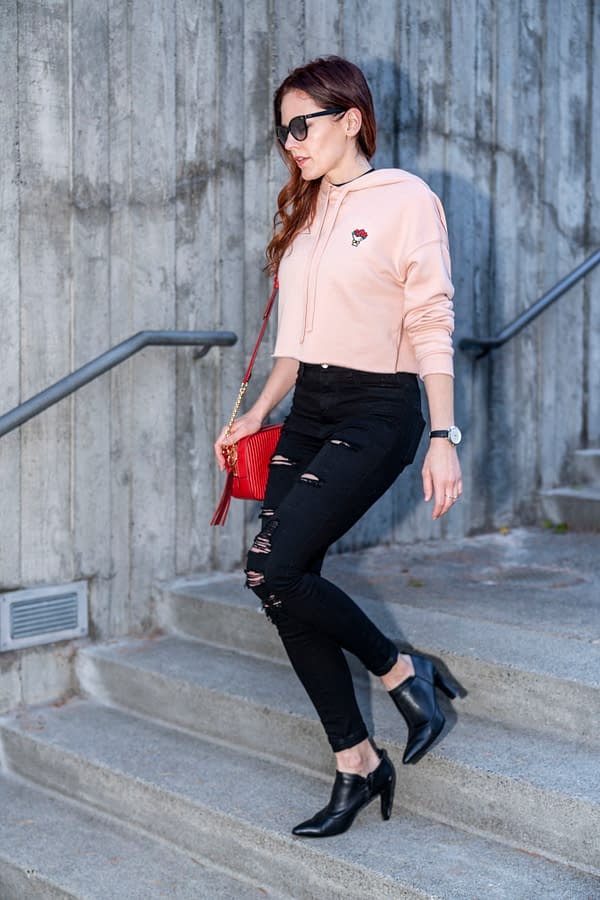 What specifically inspired you to make a line dedicated to fantasy-related gear?
Nate: D&D is cool. I want to wear D&D.
Anna: Yeah, we wanted to rock stats and D20s, so we just started talking about what would be fun to wear, and design ideas started taking form.
Ahren: Eventually we had a plethora of rough apparel mockups, so many that we couldn't keep up with ourselves! There are already so many designs waiting for our second and third collections… We're definitely inspired by the whole world of fantasy and RPGs.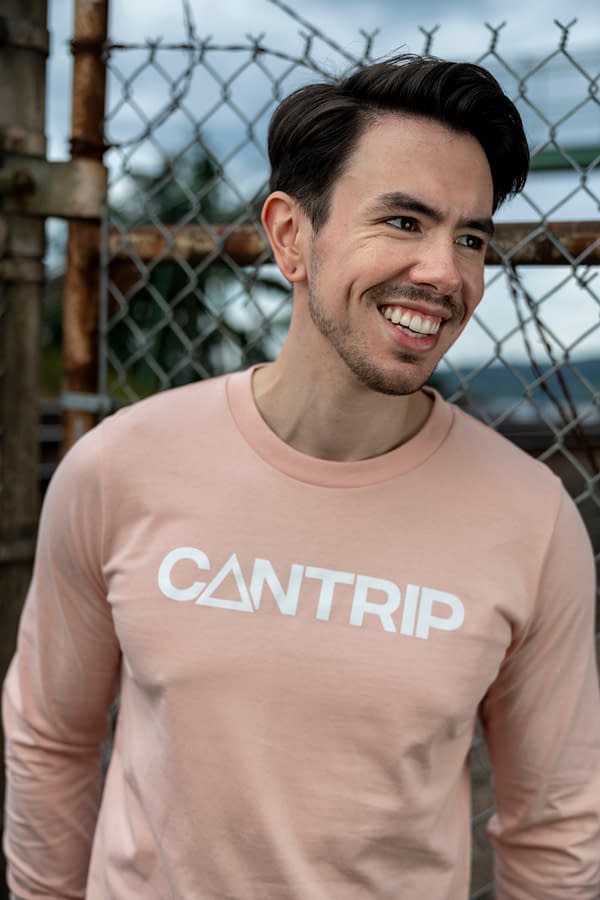 What was the process like in coming up with designs and products you thought people would want?
Ahren: The first foundation that we had set down was creating a line that was subtle and kept up with today's fashion trends, but also contained little pieces of fantasy that only a gamer could look at and understand.
Anna: And then it was about pitching concepts to each other that we thought were cool ("Whoa, what about a spell circle but at each of the points, there's a minimal polyhedral dice"), iterating on them ("Ooooh and what if, in the middle, there's the Cantrip triangle") and editing them ("Ahren, try it more distressed! NO! Ahren, less distressed!).
Ahren: But… more distressed though…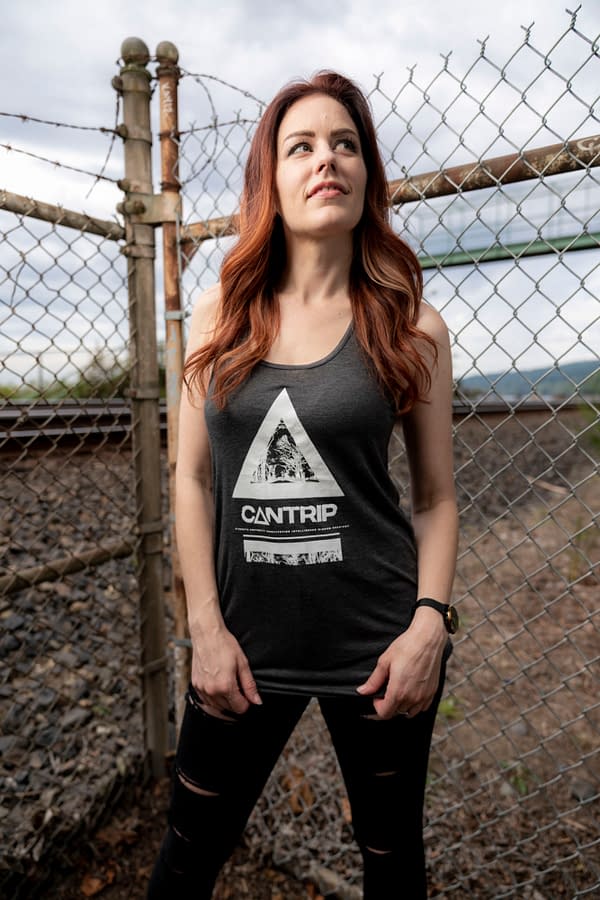 Knowing that you're making stuff related to other properties like D&D or Pathfinder, what kind of a challenge was it making items that were original to your vision?
Anna: I don't know if we even realized it at the time, but I think we found the most success when we really looked inward and thought about what personally made us smile or feel empowered when we were doing things like playing D&D. Character creation, magic, and story are all themes you can see in our designs, and those are all the parts of TTRPG that come from the player, not the property. In that way, they feel true to us and also true to the games…not to mention being pretty personally meaningful in thinking about growing as humans. That's where the name Cantrip really came from: When they wear our clothes, we want people to feel like they have unlimited use of their own personal magic.
Nate: This is why Anna writes most of the marketing copy. Haha!
Anna: It's true though!
Nate: Yeah it is true.
Ahren: I feel like the freeing part about designing this first launch of clothing was that we did it expectation-free. There wasn't a massive pressure in creating in general because we were all so excited and ready to throw in any idea that had come our way. Everything came into fruition very naturally and organically as we geeked over our subtle but sly ideas.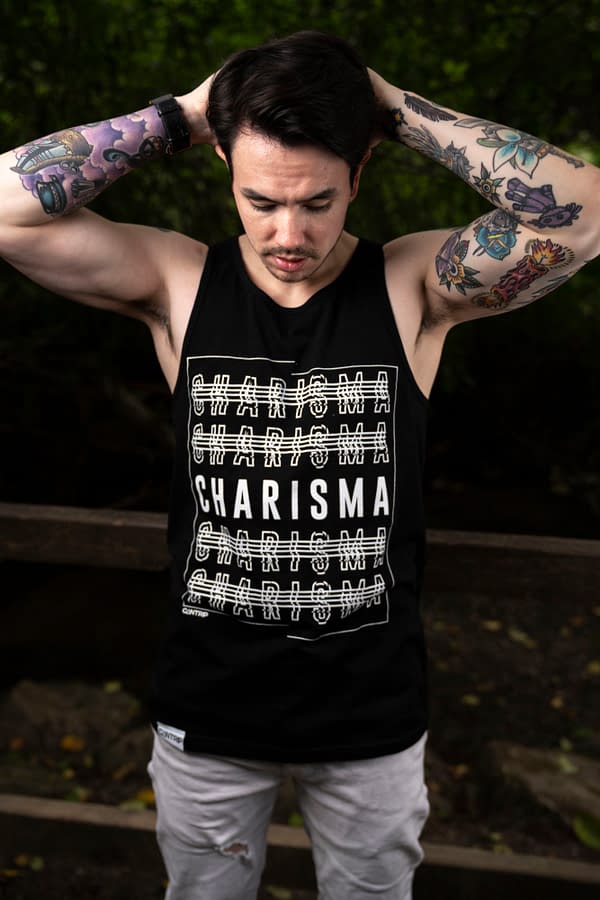 What are some of the products you're most proud of for the launch?
Ahren: I think we can all agree that our Polyhedral Spell Circle designs are the favorites, right?
Anna/Nate: Yep.
What's going to be the plan for the first year after you launch? Will you have multiple lines coming in season periods? Or is this more of a test run to start and see if it works before jumping in with more products?
Ahren: Though we do hope to create longevity through Cantrip, our initial launch is intended to get our brand out there publicly and see what responds well. From there, we can continue to take our ideas and create even better clothing that truly identifies with the community!
Anna: We have so many ideas at the ready, but we had to start "small" so that we could build a foundation on which to grow to the level of our imaginations. I think a lot of our hopes for the future stem from the same place as our beginnings. We want to grow enough to make even more customized, more cool, more "us" garments and accessories.
Ahren: So, if the launch goes well, yes, look for collection number two soon.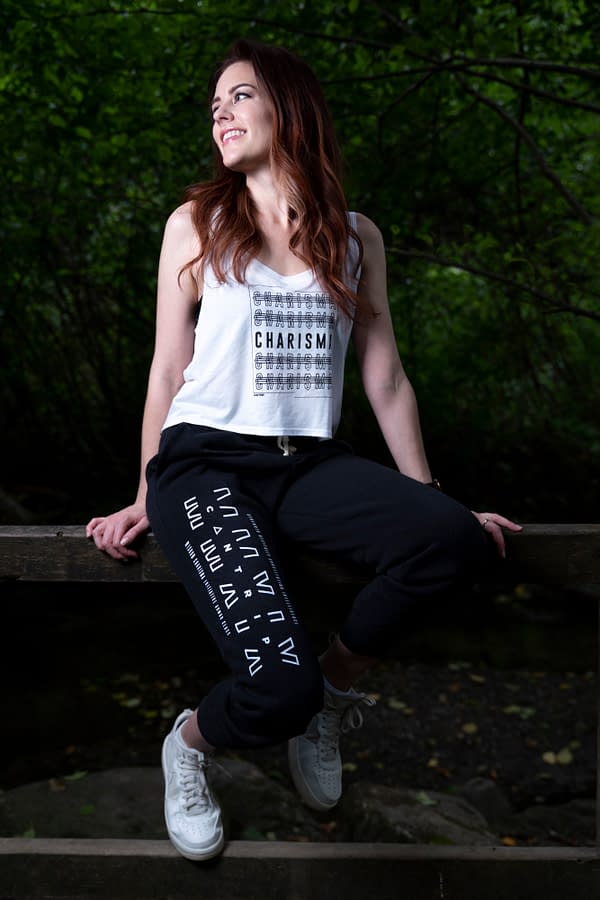 What are you looking to achieve as a geeky business, and what do you hope fans and players take away from the brand when they buy something?
Ahren: I'd like to think that more than anything, Cantrip has become a passion project for the three of us. We've genuinely become thrilled by just creating!
Anna: I hope that people feel like we can help them express themselves, feel confident, and connect with others over what they love.
Nate: We want to be able to continue making stuff that we like, that other people also like.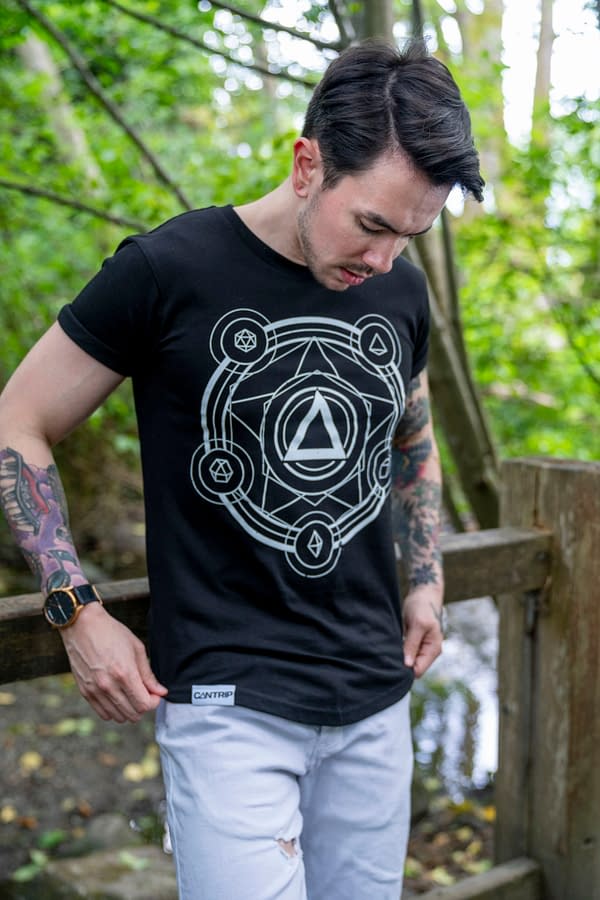 Is there anything else you guys would like to talk about or promote beyond the line?
Nate: At this point with how many hats we try to wear, it's probably best just to plug our social media, because it seems like we are all constantly announcing or working on something new.
Ahren: ShiftedSoul on Twitch, @ahrengray Twitter and Instagram.
Anna: @annaprosser on Instagram, Twitter, and about everywhere else.
Nate: @NateWantsToBattle on Spotify and all the socials.