KARDS Receives A Free First Anniversary DLC Pack
1939 Games are proud to reveal that they have released a special free DLC pack to celebrate KARDS first anniversary. The free-to-play World War II card game launched last year when the pandemic was ramping up in the U.S. and immediately had an active crowd checking it out. Since then they have gained 560k players who have taken part in this intense tactical 1-v-1 title against players from around the world. To celebrate, they have added a new DLC pack for the one-year celebration, which we have the details of below. Enjoy the free game!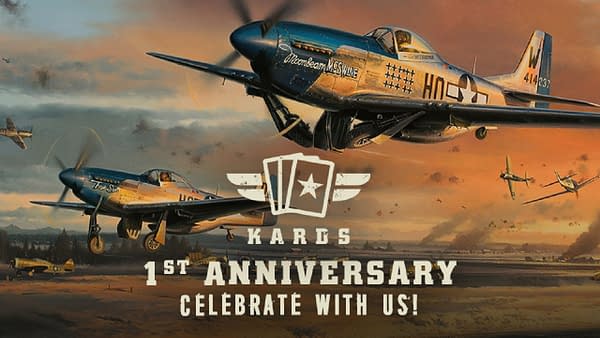 The free KARDS Anniversary DLC is 1939 Games one-year service award to its community of over 60,000 active players, all of whom have earned their stripes in battle. This special, free supply drop is worth $14.99 and contains three Officer Packs, two Draft Tickets and an exclusive Anniversary Card back. One of the KARDS Anniversary DLC packs feature cards from the latest Breakthrough expansion that delivered game-changing new mechanics and a host of improvements for novice and veteran players alike. This expansion was the latest of four massive expansions that have continued to grow KARDS and give players an ever-changing strategic experience with new Factions, units, and quality of life improvements.

KARDS has attracted over half a million players worldwide and witnessed a combined total of more than 30 million battles since it marched onto Early Access in 2019. With its global presence firmly entrenched, thousands of players from around the World entered the 2020 KARDS International Championship hoping to fight their way into the finals and compete for the prize pool of $10,000. This army of entrants was eventually whittled down to an elite band of 128 officers from 22 countries, battling to be crowned the greatest military strategist. With the free Anniversary DLC, improved onboarding and nine supported languages, there has never been a better time to enlist and join the community of over 60,000 active KARDS players.