Kellogg's Minecraft Creeper Crunch Cereal Is Coming In August
Kellogg's has announced that they will be releasing a Minecraft-themed cereal for the public and that it will be out in August 2020. As you can see below, this will be called the Minecraft Creeper Crunch, in the great tradition of putting crunchy cereal pieces with a bunch of marshmallows. A recipe decades-old to appeal to kids and adults who are kids at heart. The boxes will come in two sizes, the first being 8 ounces sold at $3.99 with the second larger box at 12.7 ounces for $5.69. The cereal is apparently going to be available only for a limited time, and the company didn't really specify if it would just be in stores or if you'd find it in specialty shops. Like how we saw WWE's Booty-O's Cereal being sold at places like FYE and Hot Topic. Here's a little more info on the cereal from the company.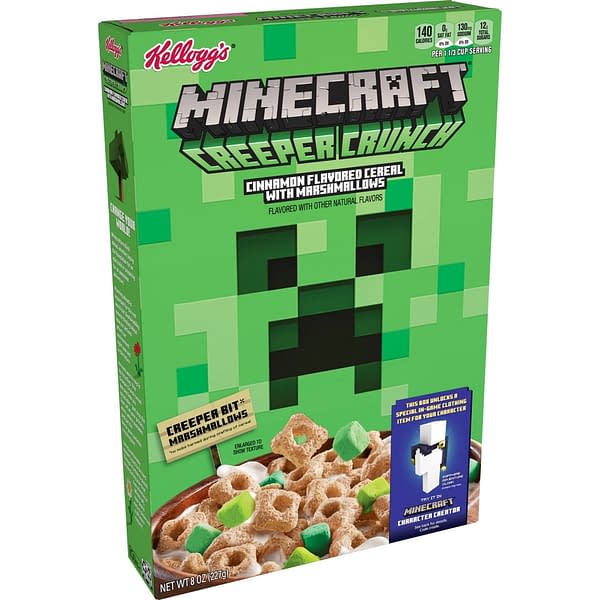 Kellogg's Minecraft Creeper Crunch Cereal extends a delicious experience beyond the breakfast table! Inside every box is a code that unlocks one of ten in-game clothing items, allowing Minecraft's users to customize their characters head-to-toe with cloaks, jackets and more!1 Typically only available through purchase, these clothing items offer players a fun way to personalize their characters' unique style in-game – exciting for any gamer! With a global audience of over 126MM players per month, Minecraft is bringing the creative, adventurous spirit of its wildly popular game to another platform — cereal! Introducing Kellogg's Minecraft Creeper Crunch Cereal; a tasty, cinnamon-flavored cereal featuring green square-shaped "Creeper Bit" marshmallows that delivers the vibrant world of Minecraft.
As to how long that limited time will be, they didn't get into specifics about that either. So we're guessing that unless this is a hot seller, it'll be gone by the holidays. If we decide to get a box of them, we'll let you know how they taste.