Kingdom Hearts Gets Opening Cinematic With New Skrillex Collaboration
Square Enix has released the opening cinematic for Kingdom Hearts 3, featuring a collaboration between Hikaru Utada and Skrillex.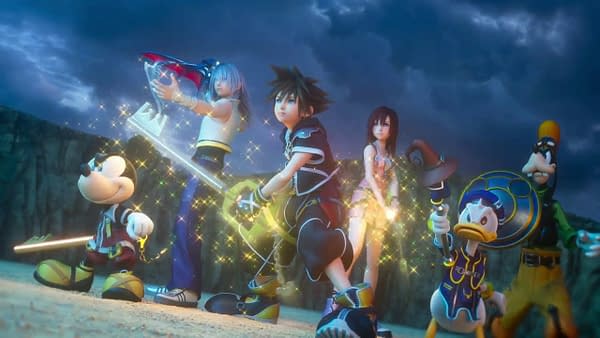 With the big rush for the Game of the Year and wrap up of 2018 on everyone's minds, it's easy to forget we are jsut a few short weeks away from a big barrage of games. Games like Anthem, Metro Exodus, Devil May Cry 5, Resident Evil 2 Remake, The Division 2 and more are out in the first quarter of the year. Among those titles is Kingdom Hearts 3.
The game is out at the end of January, and we are beginning to see the marketing push for the title to roll out. With that Square Enix has revealed an opening cinematic for the game. The video shows a very loose and very brief recap of the series so far. It features a new collaboration between composer Hikaru Utada and Skrillex called Face My Fears. You can check out the video here:
The song will be available in early January, so, if you are into that kind of thing you can get onto it.
Kingdom Hearts 3 is not far away at all now. It's been a long ol' journey for the game, which was announced in 2013 but the end is now in sight. The title is set for January 29th, 2019 so mark your calendars is you love the series.