Gameforge and Blueside have released the third major update to Kingdom Under Fire 2 as players have a chance to dive into more battles with "Grave Of Time". The new update will throw in a new raid, new items, a new mission, and a number of fixes to improve the game's quality. We have the details for you below along with some screenshots to check out. The devs have promised that Kingdom Under Fire 2 will continue to receive updates throughout 2020, so look forward to more content from them in the months to come.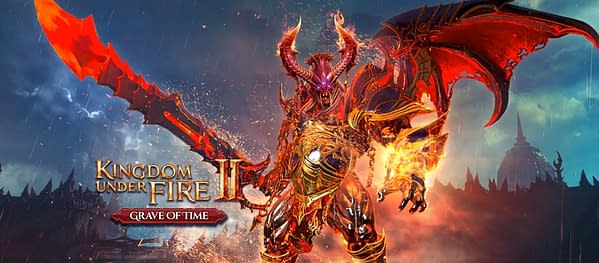 New Raid — Grave of Time: After conquering Scourged Mountain, level 30 players can team up with up to seven additional allies and bring along their three favorite troops to take on the challenging tasks set out by the Ruins Keeper.

New Mission — Dimensional Test: Quests of higher difficulty are in store for players who accept them from Yuri in Accolade! Three units dive into 50 levels of fierce enemies that must be demolished — but be warned — once destroyed, units cannot be resurrected! But the challenge is worth it — for every five levels, players will receive a special reward once a day after the challenge is complete. Do you have the mettle to survive all 50 levels?

New Items — Mounts and Equipment: Get ready to ride in style with new mounts such as the Snow Wolf, Mountain Wolf, Alpha Wolf, and Wounded Bear! Heroes can also ramp up their defenses with the new "Dimension Crack" Heroic armor items found in the Crack Crystal Exchange Centre and Grave of Time raid, and two new Epic equipment sets: Set of the Enraged Pergos and Set of the Idle Pergos, available exclusively in the Grave of Time raid.

More Rewards: Get ready to join the millionaires' club — further changes include increased gold rewards from Treasure Goblins, daily missions, and various quests, as well as an increase to the daily limit for Crack Shards and Crack Crystals, doubling the original amount!

Improved Balancing: After listening to player feedback, various units and hero abilities have received an upgrade. Additionally, Frost and Thunderbolt Bowmen units have increased values and range, and Tank units have improved abilities and are now divided into different compatibility types. Several of the Berserker's, Elementalist's, and Ranger's hero abilities have been given a boost, making them deadlier than ever before!
Enjoyed this article? Share it!