Legends Of Runeterra Announces Competitive Rework For 2023
Those who love competition in Legends Of Runeterra will be seeing a rework to the entire system this year, as Riot Games details new changes.
---
Riot Games continues its run of announcements for Legends Of Runeterra for 2023, as the game will get a competitive rework. The team has emphasized that they recognize how integral competitive gameplay has been to the game, so they are now pushing to have what they refer to as "a more rewarding experience for players of all skill levels." There are going to be some changes to the way things are done moving forward, as teams will have Daily Rumbles, weekly Runeterra Opens, and weekend tournaments, the last of which will take place two weeks after each monthly update. We have the full dev notes of what's to come for competitive gameplay down below.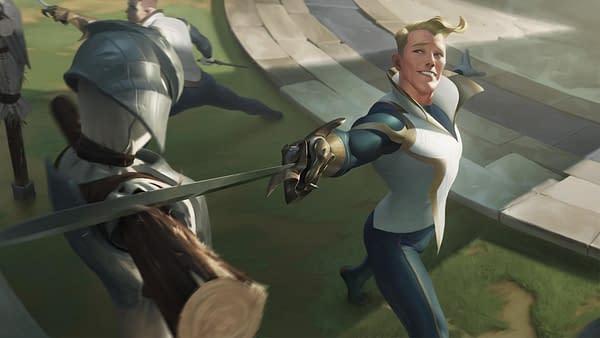 Gauntlets/Tournaments
"Gauntlets have traditionally been a way to earn Prime Glory and practice in the same format as Seasonal Tournaments. We experimented with the Timewinder Gauntlets to see how players reacted to them and gained some valuable insight. Taking those learnings, we created Daily Rumbles and Runeterra Opens."
Daily Rumble
"The Gauntlet Structure has changed with the introduction of Daily Rumbles. For the Beta Season, you'll play until you get six total wins or three total losses. The Daily Rumble will be a nightly tournament opening in the evening (4 PM – 2 AM shard time ). You can only enter the Daily Rumble once per day, so be ready! Each week the format of Daily Rumbles will rotate, providing all styles of players an opportunity to scratch that competitive itch. Here is a sneak peek at the first rotation of Daily Rumbles, planned to drop in February."
Legends Of Runeterra Format Breakdowns
Champions Unlimited Bo1

Deckbuilding Rules:

unlimited number of Champions.
Max 3 copies of each card
2 Regions

No Pick/Ban
Best of 1

Standard Bo3

Deckbuilding Rules:

Standard Deckbuilding Rules

Pick/Ban
Best of 3

Free Build Bo1

Deck Building Rules:

Unlimited Champions,
Up to 10 Regions
30-75 cards

Standard Bo1

Deckbuilding Rules:

Standard Deckbuilding Rules
No Pick/Ban
Best of 3
Daily Rumble Buy-In
"We want Daily Rumbles to foster a competitive feel and have higher stakes. To raise the stakes, we will have a buy-in of 650 Green Shards or 200 Coins. This price is heavily discounted during our Beta Season as we want to give you a chance to participate more and really try out the mode! We're still figuring out what number feels right to keep the stakes high enough for everyone to bring their A-game, but also low enough to be accessible for players."