Last week we showed you the coming Jovian Concord update for Warframe. The patch is now live and Digital Extremes has revealed what's all included. The main addition to this is a new game mode called "Disruption" in which you head to Ganymede, Jupiter to collect keys from fallen Amalgams, activate corresponding conduits, then protect them from the endless onslaught that only grows each time to activate a conduit. You can now also challenge the Ropalolyst in the Gas City, and if you defeat them, you'll earn the 40th Warframe, Wisp. Her abilities will give you a quick and quiet ally in the fight, but not really high on the HP. There are also new mod settings, two-factor authentication, and some new gear which we've posted below. You can read the full patch notes here.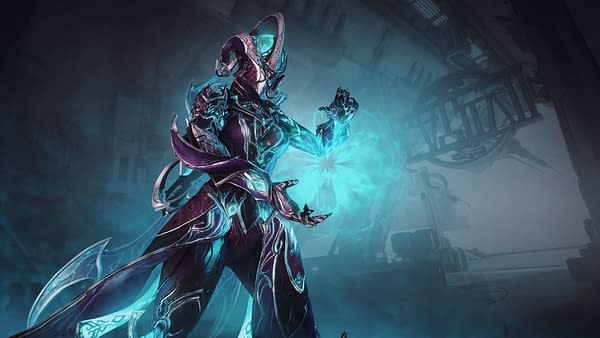 TENNO REINFORCEMENTS

Gear up for the coming war with these new Weapons, Mods and Cosmetics.

FULMIN
Strike with silent lightning or the pummeling drum of thunder with Wisp's signature Primary Weapon. Alternate between stealthy short-range electrical discharge and automatic lightning gun. Faster mode-switch when used by Wisp.

WISP GAOTH HELMET
A flowing alternate helmet for Wisp.

SIROCCO KAVAT ARMOR
Fluid and aerodynamic, the signature Kavat armor of Wisp.

KOMOREX
Corpus ingenuity leverages Sentient tech to create a high-capacity sniper of terrifying capability. The Komorex fires a bursting Toxin round. Zoom in to reduce recoil. Zoom again to expand the burst radius and shot-power with reduced rate-of-fire.

CYANEX
Sentient tech merges with Corpus design to deliver this lethal sidearm. Fully automatic, it fires ricocheting, homing projectiles that release small clouds of Gas on impact. Alt-fire to release the remaining clip in a single burst.

NYX PASITHEA COLLECTION
Take control with this decadent collection of deluxe Nyx gear. Featuring the Nyx Pasithea Skin, Enthra Syandana, and the Hecaton Shotgun Skin.
Enjoyed this article? Share it!