Mario Tennis Aces Release Date Seemingly Revealed Due to Early Retail Listing
Mario Tennis Aces release date has seemingly been outed a little early thanks to a listing at a Japanese retailer.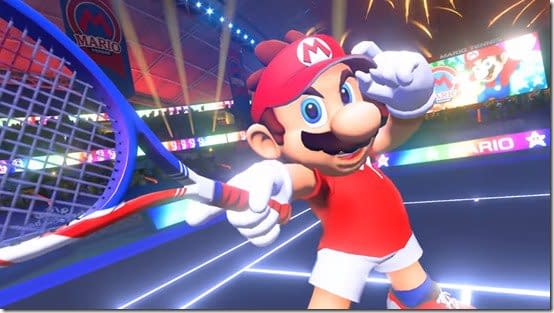 We know we are in store for a Nintendo Direct a little later. The announcement came yesterday that Nintendo would be holding a 30 minute presentation a little later tonight showing off some of the company's new wares. We don't know everything that will turn up, but the one game that was named was Mario Tennis Aces. On that, it seems one of the big surprises about the game may have dropped a little early.
Japanese retailer Rakuten seemingly listed the game a little early showing off a couple new characters and details about the game. It's since been taken down, but the listing did suggest a June 22nd, 2018 release date and come with some extra material that confirmed the likes of Yoshi, Rosalina, Daisy, Wario and Donkey Kong for the title. What makes the leak even more likely is that it came with a picture of the box art too. Worth noting, as with a lot of early listings for games the date could be a placeholder but I'm going to say that seems unlikely. It's too specific and doesn't land on the first or last day of a month, a usual telltale sign of a placeholder release date.
One has to assume we are getting this information 100% confirmed tonight, but I'm sure there are going to be plenty more surprises for this and other games tonight in the Direct. We'll be here to bring you that news first hand, so if you can't watch, we will have you covered.