Lost Ark Releases February Update & One Year Anniversary Details
Amazon Games are ramping up for the One-Year Anniversary of Lost Ark with a new class, a new region, and more on the way.
---
Amazon Games released a new blog today for Lost Ark, going over what's to come in the February 2023 update, as well as One-year Anniversary plans. The update will introduce a new continent called Rowen, where you'll run into two competing factions called the Preigelli and the Liebertane. Both of whom are competing for Sylmael, which are crimson jewels that are a precious resource in Arkesia. The region will have quests and more as they build up to the release of the March update, when the Tulubik Battlefield releases. February will also bring the build-up to the first Specialist Advanced Class in the form of the Artist, seen below; the class if finishing ahead of schedule and will be released in March, but not before they do some groundwork int he next update. We got more notes from the blog below along with a special video.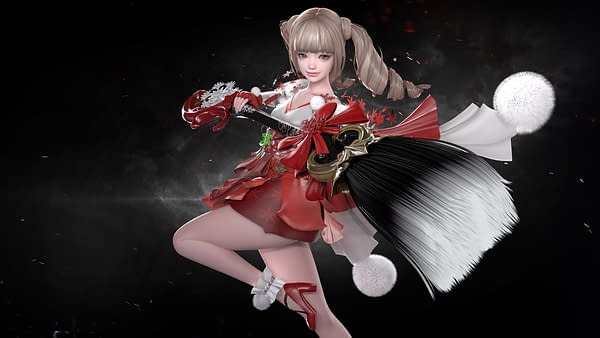 LOST ARK ROADMAP UPDATE – ARTIST CLASS
"While we previously announced that the first Specialist Advanced Class, the Artist, would first arrive on Arkesia's Western shores in April 2023, we're excited to share that development work preparing the class will finish ahead of schedule, resulting in a March release! The Artist will be accompanied by a Powerpass and progression event similar to previous Express Events to help new Artist mains (or those eyeing another class) quickly prepare for both the Brelshaza Hard Legion Raid & the Hanumatan Guardian Raid arriving in April. Leading up to the March Update, we'll share more specifics on the Artist, progression events, and the other content arriving. In the meantime, if you're interested in learning more about the Artist Class, you can find a description of the class along with our plan for the Artist's arrival in the West in the 2023 Roadmap – Part 1 article."
FEBRUARY UPDATE – ROWEN & ANNIVERSARY CELEBRATION
"Rowen is a continent located west of Shushire, that's filled with Sylmael; crimson jewels that are a precious resource in Arkesia. After a prosperous ancient civilization disappeared, Rowen was forgotten from Arkesia's history. However, when rumors about the abundant crimson jewels covering the land spread, factions coveting the jewels have begun mustering their forces in Rowen. Strange tensions linger between the factions, and the barbaric nomads assault those who have dared to set foot on their lands. Who will succeed and who will perish in this war-torn land? The neutral ground Eliyabeck has lost balance, and now the land is divided into two competing factions: Preigelli and Liebertane."