MapleStory M has added Legendary Dual Bowgun Archer Mercedes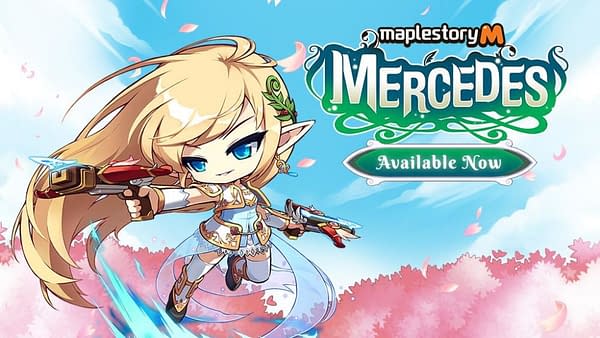 Free-to-play multiplayer mobile game MapleStory M received a free update for players today which introduces Mercedes, the legendary dual-weilding Bowgun archer elf. Mercedes is one of the heroes who locked away the Black Mage, and her reputation is well-deserved. Mercedes is an agile character who becomes stronger as her flashy combos stack on each other.
Today's update also brings in the highly anticipated Evolution Dungeon which allows players to customize their characters based on character progression needs.
In addition, class balancing for Bow Master and Dawn Warrior have been adjusted along with Guild Banquet EXP balancing.
In celebration of the new Mercedes class, all players will receive the Mercedes Update Box and "TripleDillo Pets" from now until April 4, 2019. The Mercedes Update Box includes a Character Slot Coupon, Auto-Battle Charge Ticket, and Epic/Mysterious Weapons and Armor Whetstone.
Additional events available starting today, include:
Mercedes Burning Event

– Until April 24, Mercedes characters between level 3 to 75 will be given two bonus levels each time they level up, for a total of three levels increased

Mercedes Growth Support Event

– Until April 24, newly created Mercedes characters who reach a certain level will obtain a special Growth Support Box. Support Box items include "Sylvidia" Riding Pet, Ruler of Elves Medal, Elven Throne Chair, and additional items needed for character growth

Take Care of Pink Bean Event

– Until April 25, a card-matching game where players must find identical cards to obtain EXP and evolve Pink Bean will be available. Depending on Pink Bean's growth, Pink Bean themed-rewards such as Pink Bean's Best Friend Medal, Pink's BlessingTitle, and more will be distributed