This week, Netmarble has added a new free update to Marvel Future Fight focused on the Secret Empire storyline, adding some new content. Along with the additions you see below, you'll notice Captain America got a costume update of sorts. As you can now add the iconic hero with his Hydra outfit. You can read more about the additions below, ready for you to play and collect.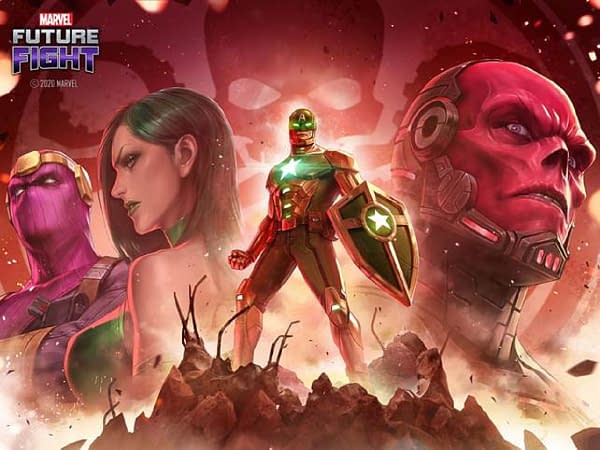 New uniforms have been added, including a Hydra Supreme uniform for Captain America, a Hydra Armor uniform for Red Skull, a Superior Octopus uniform for Doctor Octopus and a Secret Empire uniform for Crossbones. Three new Secret Empire-themed characters have also been added to the game: Baron Zemo, Viper and Taskmaster. Additionally, Winter Solider has new ultimate skills and can now be upgraded to Tier-3, while the Awaken Potential feature for Red Skull and Doctor Octopus is now unlocked. The Realized Potential feature is also unlocked for Baron Zemo, Viper, Sin, Taskmaster and Doctor Octopus.

New improvements have made their way to the Danger Room. These include extended seasons to help users reach high scores now added to MARVEL Future Fight, updates to rebalancing Hero vs Boss stats, new dedicated skills, an abandon penalty, and an expansion of matchmaking bandwidth for faster matching. Alliance Conquest Matching has also been enhanced, as Agents can choose the initial battle start time for each alliance and match the same time zone with selected alliances to resolve any time difference issues. Improved rank rewards have been added, including a special feature Stop Attack that allows for more strategic combat.
Enjoyed this article? Share it!