Marvel Strike Force Celebrates Its Fifth Anniversary
Scopely has revealed new plans for Marvel Strike Force as the game is currently celebrating its fifth anniversary.
---
Scopely revealed all new plans for Marvel Strike Force content this month as the game is officially celebrating its fifth anniversary. The team has added several new events for you to check out, celebrating every year they've been around, a new character, the end to the Age of Apocalypse storyline they have going on, and so much more. We got the rundown of everything they're doing below, along with a special video they put together to mark the occasion!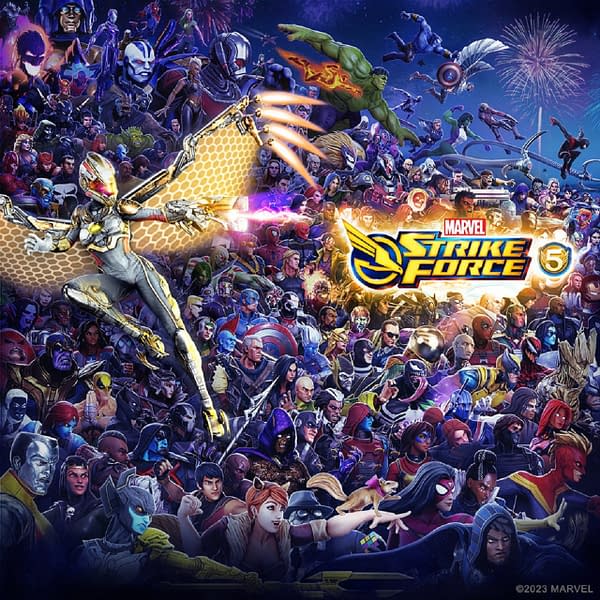 Legacy Events: The original Marvel Strike Force is back with the newest month-long milestone event: Memory Lane! For the first time ever, classic events from the game's history will be available for long-time players to enjoy and new players to discover how it all began. Featured legacy events include:

2018 – Character Events with Thanos & Rocket Raccoon
2019 – Minn-Erva Event Campaign Mission "Kree Commandos"
2020 – Team-up events featuring Rocket Raccoon & Groot
2021 – Kestrel Event Campaign Mission "Take Flight"
2022 – Gambit raid with updated character lists
Plus more surprises!
New Original Character: The creative team at Boundless Entertainment has introduced three original characters, Kestrel, Deathpool, and Spider-Weaver, which are now part of Marvel canon. Later in 2023, Marvel Strike Force will introduce a fourth original character, Vahl, the game's first non-binary character. Vahl is one of the first Asgardians and keeper of Valhalla.
Age of Apocalypse Finale: In 2022, Marvel Strike Force introduced an epic year-long narrative arc – the Age of Apocalypse, bringing together fan-favorite characters like Morgan Le Fay, Rogue, Red Hulk and Archangel as horsemen in service of Apocalypse. Now timed to the game's fifth anniversary, the saga will conclude in a stunning fashion with Apocalypse's release on March 10, as he claims his throne at the center of the multiverse.
New Costumes: Kestrel is the first original Marvel character featured in Marvel Strike Force, brought to life by the creative team at Boundless Entertainment. To accompany the release of Kestrel's event campaign mission, players can receive a special Kestrel anniversary costume. A Shield Medic anniversary costume is also available for all players who enter the S.T.R.I.K.E. Assemble Sweepstakes (more details below!).
New Sweepstakes: Players can enter the S.T.R.I.K.E. Assemble sweepstakes for a chance to win great prizes, including a limited-edition Marvel Strike Force art book or a fifth-anniversary pin. Visit MarvelStrikeForce.com/sweepstakes for more details.
New Game Mechanic: The team is implementing "Time Heist," a new feature that lets players progress through the game at a faster pace for players on the go.