Insomniac Games had a surprise for Marvel's Spider-Man players today as the developers added two new costumes to the game from the new movie. People wasted little time going on Twitter and posting these images of the new suits from Spider-Man: Far From Home. The first oen being the standard Spidey suit that Stark created for Parker with all of the snazzy dark blue and white highlights to it. The other one, which really doesn't have a name beyond "Stealth Suit" right now, show's Spider-Man if he were looking to break into a top-secret facility or rob a bank. It could honestly go either way.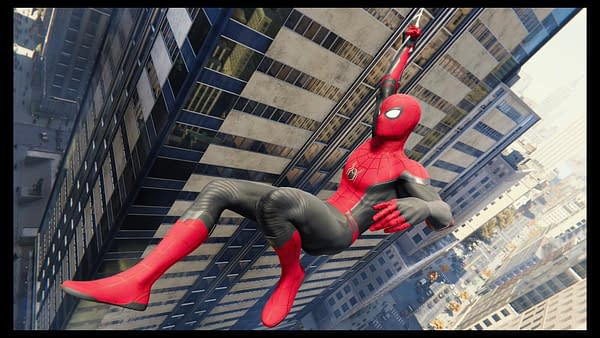 Much like a lot of the costumes in Marvel's Spider-Man, they don't do anything special in the game. They're just cosmetic additions to make you look cool swinging through the city. But looking over what some people have been doing with the costumes online so far, it's clear people really love how they look. Jump on into Marvel's Spider-Man and take advantage of the costumes while you can before they realize how awesome they look and take them away. (They won't, we're just encouraging you to get them.)
Enjoyed this article? Share it!