Marvel's Spider-Man: Miles Morales Reveals New Content In Daily Videos
We're getting a slightly better look at Marvel's Spider-Man: Miles Morales as Insomniac Games has been releasing new daily videos. The content is coming from a partnership with Game Informer, as they have been showing off new videos of the game with different aspects. As of the day we're writing this, there have been five videos released, all of them with their own subject matter and content. This includes dealing with the game's first boss in Rhino, watching Peter Parker and Miles Morales interact since they're both still operating in the same universe, Miles having a brand new kitty friend to work with (sorta), and the trials of working with the stealth system and the combat system in the game. You can watch all five videos below as we wait for the update to drop on November 12th.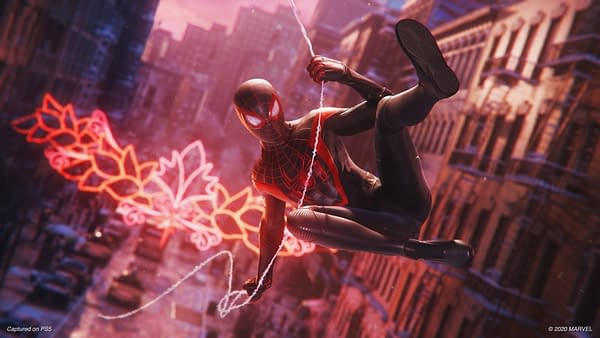 In the latest adventure in the Marvel's Spider-Man universe, teenager Miles Morales is adjusting to his new home while following in the footsteps of his mentor, Peter Parker, as a new Spider-Man. But when a fierce power struggle threatens to destroy his new home, the aspiring hero realizes that with great power, there must also come great responsibility. To save all of Marvel's New York, Miles must take up the mantle of Spider-Man and own it. Miles Morales discovers explosive powers that set him apart from his mentor, Peter Parker.

Master his unique, bio-electric venom blast attacks and covert camouflage power alongside spectacular web-slinging acrobatics, gadgets and skills. A war for control of Marvel's New York has broken out between a devious energy corporation and a high-tech criminal army. With his new home at the heart of the battle, Miles must learn the cost of becoming a hero and decide what he must sacrifice for the greater good. Traverse the snowy streets of his new, vibrant and bustling neighborhood as Miles searches for a sense of belonging. When the lines blur between his personal and crime-fighting lives, he discovers who he can trust, and what it feels like to truly be home.