As we patiently wait for Marvel's Spider-Man to come out in a few months, we're now starting to get credible leaks for the game that might make people happy. In an interview with Drift0r (which was taken down by Sony), voice actor Chris Jai Alex talks about the work he's been doing with the game as the voice of Rhino. In that interview, he spilled a little secret that he probably shouldn't have about another character that hasn't been revealed yet.
WARNING: this is your official spoiler warning. If you don't want to know, do not read beyond this point. We have a lovely photo of Spidey with Scorpion to give you a moment to think about it.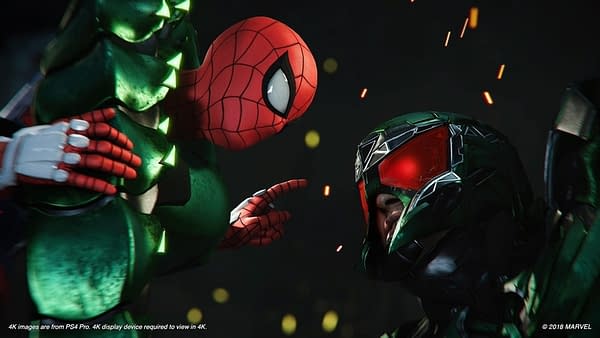 When talking about the way characters look and interact with each other in the game, Alex revealed (in a clip that was saved, chopped up and reloaded on YouTube for everyone's viewing pleasure) that Doctor Octopus is in the game as well. He didn't go into any depths about the character, it was just a line that slipped out. But that does bring into question a number of other topics. Is Doc Ock the sixth person on top of the roof in the E3 trailer to form the Sinister Six? If he isn't, who else could it be? If the Doc isn't in the Sinister Six, what role does he play in the game? Is he a stand-alone villain that Parker needs to deal with like The Shocker? All these fun new questions we get to ask ourselves until Insomniac Games does another villain reveal for Marvel's Spider-Man.
What do you think of Doc Ock's inclusion in the game?
Enjoyed this article? Share it!