"Monster Hunter World: Iceborne" Has Finally Been Added To PC
Capcom announced this week that the PC version of Monster Hunter World: Iceborne is finally live and available for players to download. The company released some added details of the small differences between the PC and console versions. But for the most part, the two are pretty much identical. You can read more about the PC version below. Best of luck to all of you in the game.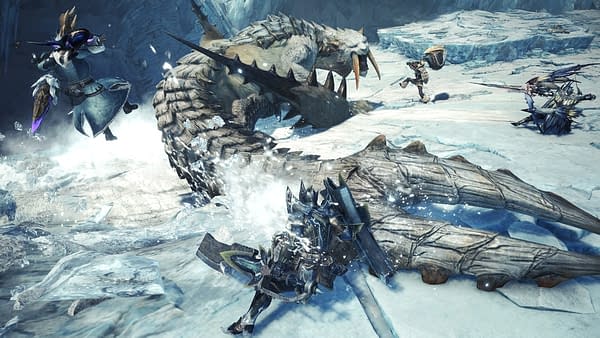 The expansion amps up every aspect of Monster Hunter: World including a higher difficulty rank, called Master Rank. Hunters must have completed the main story in Monster Hunter: World through Hunter Rank 16 in order to access Master Rank and the new Iceborne content. To help hunters along their journey, new gameplay features have been added, including the new Clutch Claw mechanic and updates to all 14 weapon types. Other new "series first" gameplay features include a two-player balanced difficulty scale, the ability to ride small monsters to traverse maps and a Hunter Helper player incentive to encourage more experienced Master Rank hunters to help Low and High Rank players progress through the World game. Also, for hunters who have yet to complete the story from Monster Hunter: World, free Defender Weapons and a Guardian Armor set help them progress through the main story in order to get to Iceborne.

The PC version of Iceborne includes features such as a high resolution texture pack, customizable graphical settings, DirectX 12 support, plus optimization for FidelityFX CAS and upscaling. Additionally, mouse-and-keyboard controls have been revamped across the board to better suit the new actions and abilities on PC. To celebrate the launch of Iceborne on PC, two different item packs offering free consumable items are being offered as login bonuses to PC hunters. The first item pack is being provided to all PC players and the second pack is only available for players who purchased Iceborne on PC. Both item packs are available for a limited time and can be claimed by logging in between now and February 5th.