Monsterpocalypse (or MonPoc, for the cool kids) is a miniature based, table top strategy game from Privateer Press. With lots and lots of monsters. And they fight each other by smashing cities.
It really doesn't get any cooler than that!
I got my hands on a couple of cool monsters, and thought I would share the coolness with you all! First up, here's Armodax, one of the monsters for the Terrasaurs faction.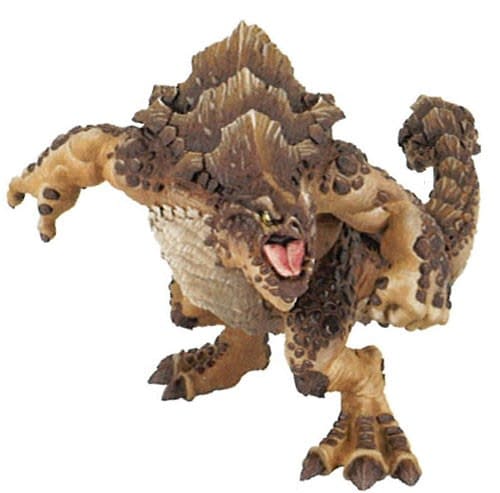 Though the Terrasaurs have shown a remarkable willingness to fight alongside Earth's other defenders, some are trickier to work with than others. Armodax is a hulking monster covered in armored plates and boasting a weighty clubbed tail that serves better than any wrecking ball at toppling buildings. He has demonstrated unrestrained delight in annihilating skyscrapers, factories, and power plants while clashing with Earth's foes. Yet there is no question he is worth preserving, given his unstoppable ferocity. His allies have learned to ensure the complete evacuation of any zone he has entered.
First Impressions:
Armodax comes in a bright cardboard box, with a picture of the finished model plastered on the front. The model is safely nestled inside the box within a clear clamshell, and you'll find the 2-sided stat card inside for your new monster. Everything looks really nice.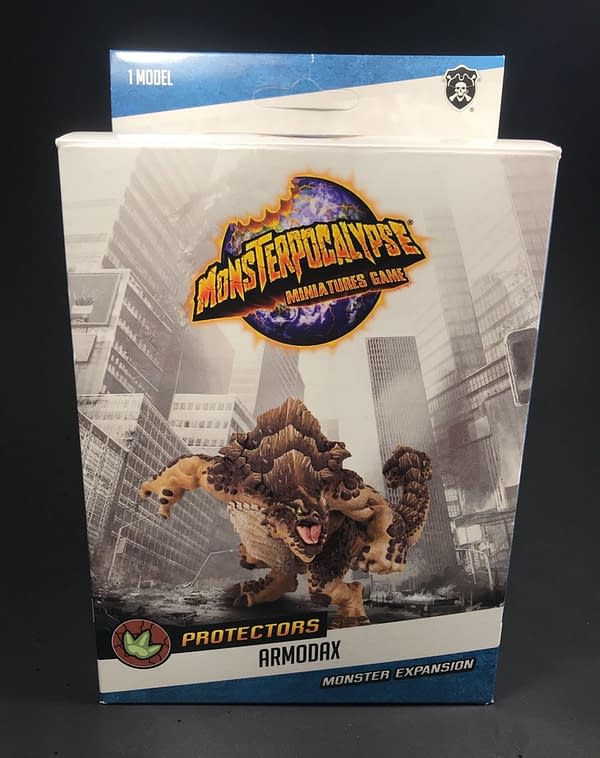 Armodax is a resin model, and ships as the main body, plus two additional frames containing the legs and arms.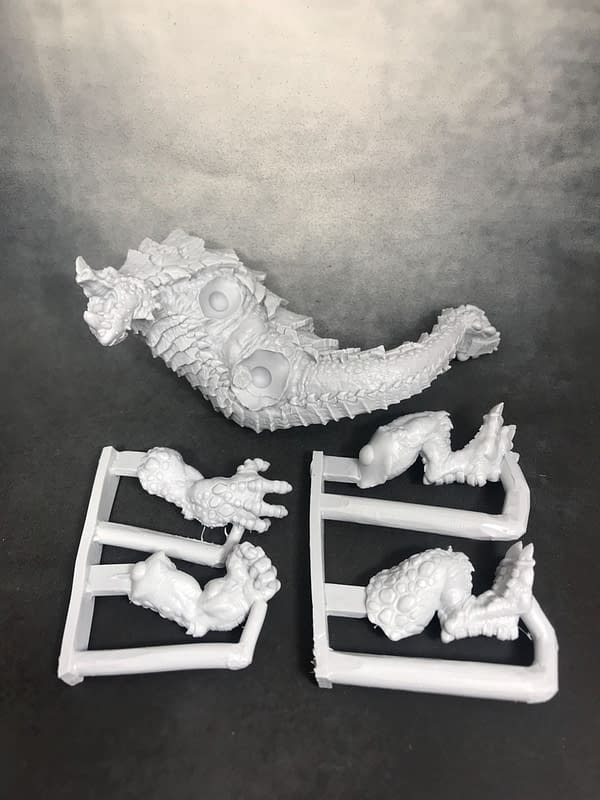 Armodax is an incredibly resilient monster that can be added to any Protectors force. His thick armored plating protects him from taking damage when colliding with buildings. In the early game, he relishes destruction, gaining extra Power Dice for every building and unit he destroys. When he goes hyper, he gains power dice whenever he or an ally is attacked, and he swings his powerful tail into enemies, sending them staggering across the map.
Assembly:
Cutting the arms and legs off of the sprues was easy, as hobby clippers can cut through the resin without much difficulty. Cleaning up the big tabs lefts over from the manufacturing process does, however, take some care- the tabs are situated mostly inside the legs and arms, but you could damage some details on the model if you aren't careful.
There was one pretty big mold line down the back of my Armodax, which cleaned up easily with a file.
After cleaning up Armodax with warm, soapy water, I put her together with super glue. There was one gap above the right leg, where it joins with the torso, but a little plastic putty fixed that right up. I also left the protective film on the clear figure base, since the finished figure fights on a clear base. (the blue stuff in the photos is masking tape)
The assembled figure is really cool: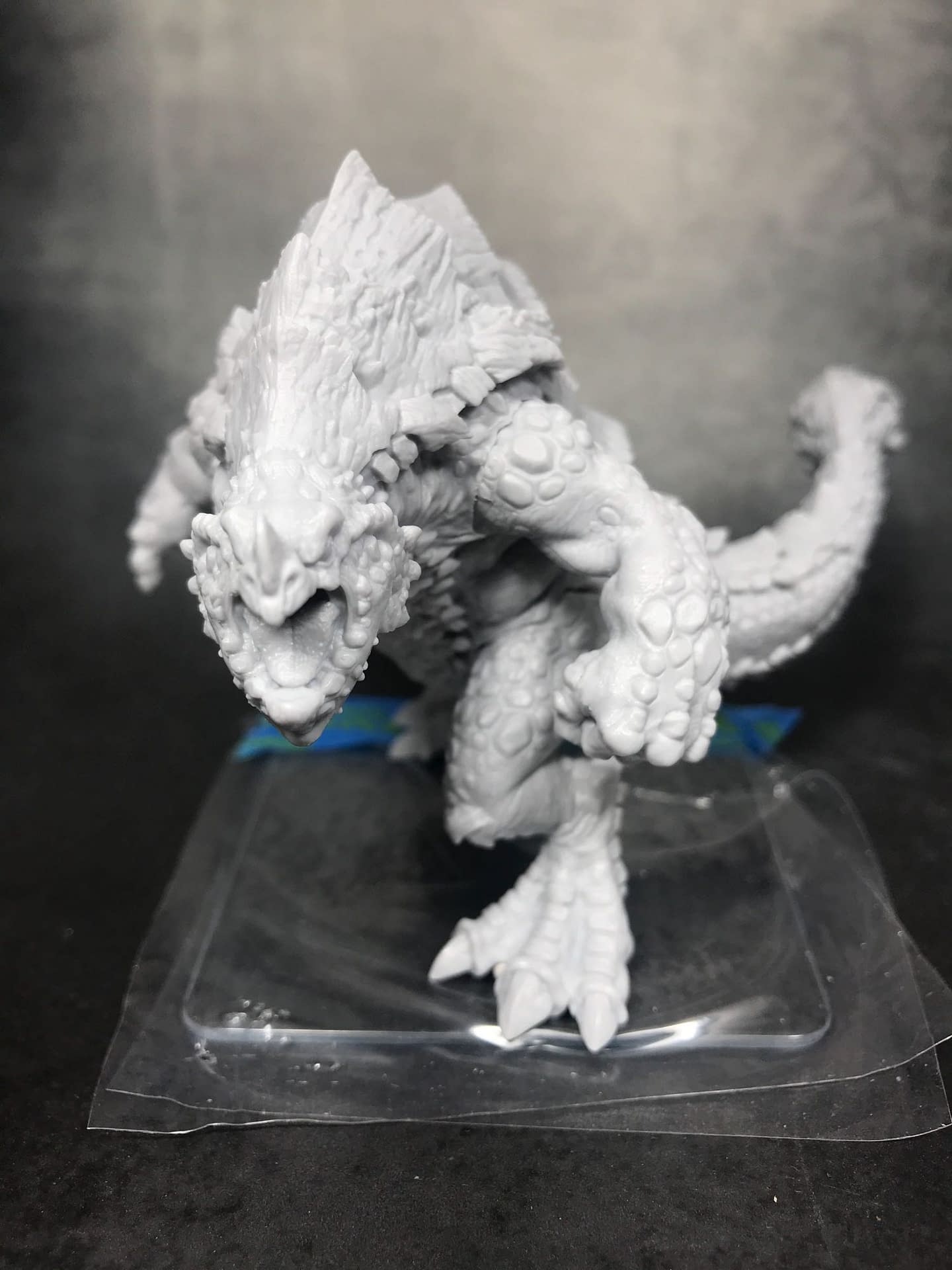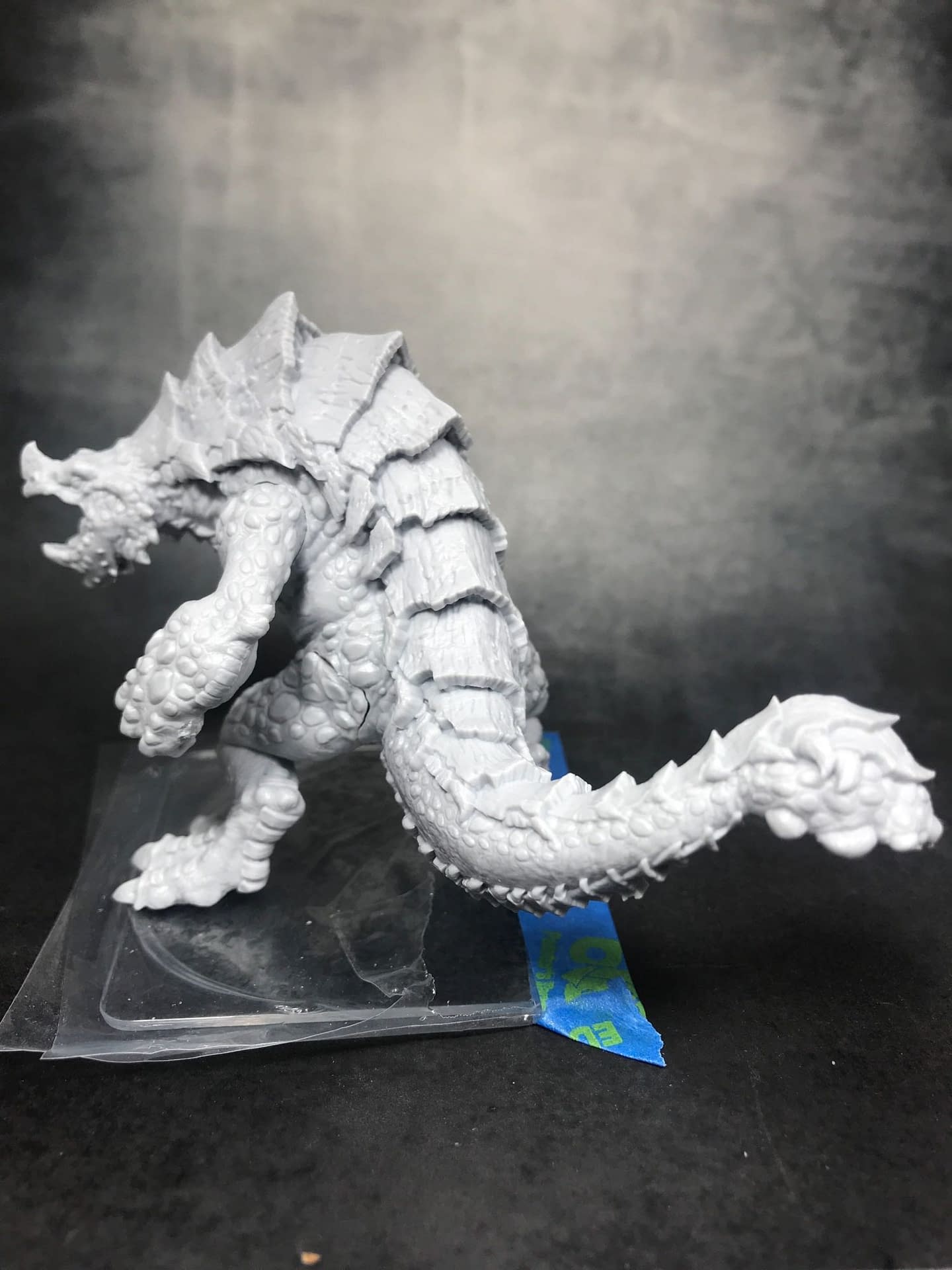 Painting:
Most of the Terrasaurs models I've seen have been in muted earth tones; I wanted to go with something more vibrant!
I applied a black basecoat, then a grey to white zenithal highlight to pick out the details. I then airbrushed the main body with Ghost Tint Blue from Badger, with some Purple Lake acrylic ink from Daler Rowney for shading. The carapace and under armor was painted with Greatcoat Grey from Formula P3, and then highlighted with a 50/50 mix of Greatcoat Grey and white.
The inside of the mouth was painted Formula P3 Sulfuric Yellow, then washed with Liquitex Sap Green acrylic ink. The claws and horns were all painted white, then given a quick wash with a Burnt Umber acrylic ink from Daler Rowney, mixed with an acrylic thinner medium. I used a damp brush to wick away the excess umber and leave the white as a natural highlight.
Once that all dried, I went over the armor plates with a light white dry brush, to pull out some of the armor details and leave a nice delineation between the plates., then the whole model was given a wash of Ghost Tint Oil Discharge from Badger, mixed with acrylic thinner to cut down on the intensity a bit.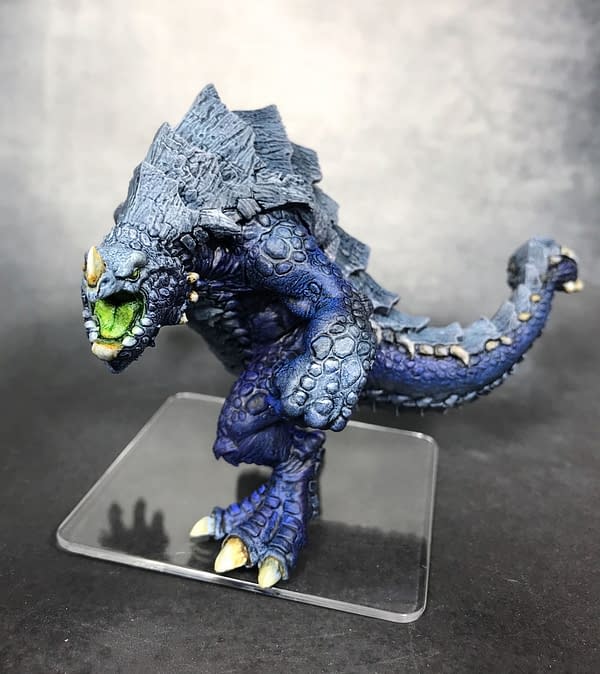 The Armodax model paints up really easily- it has a ton of detail, and TONS of character, but the miniature isn't bogged down with little details that slow you down when you're painting.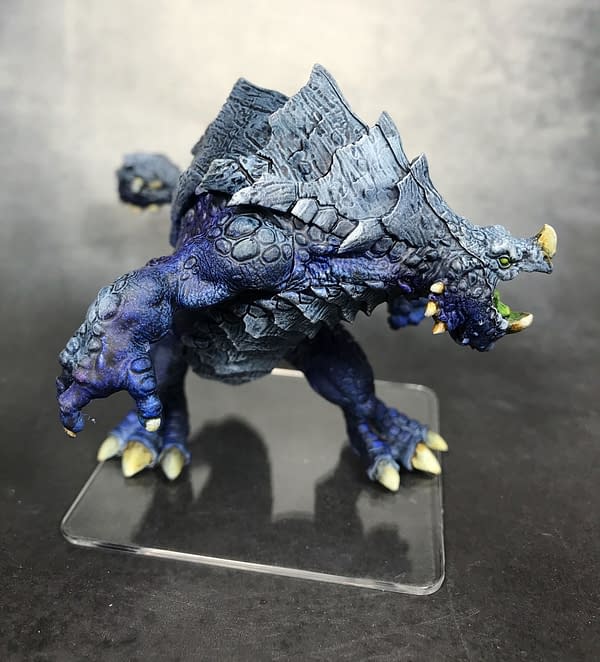 The whole model took about an hour and a half to build and paint from start to finish, which means I have more time to destroy cities with her!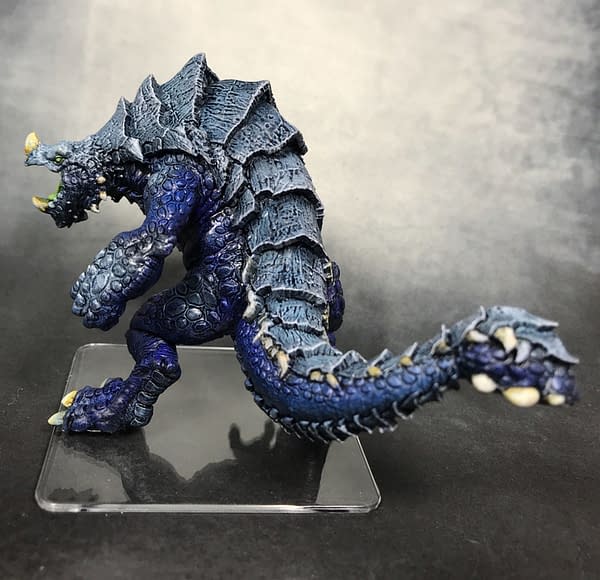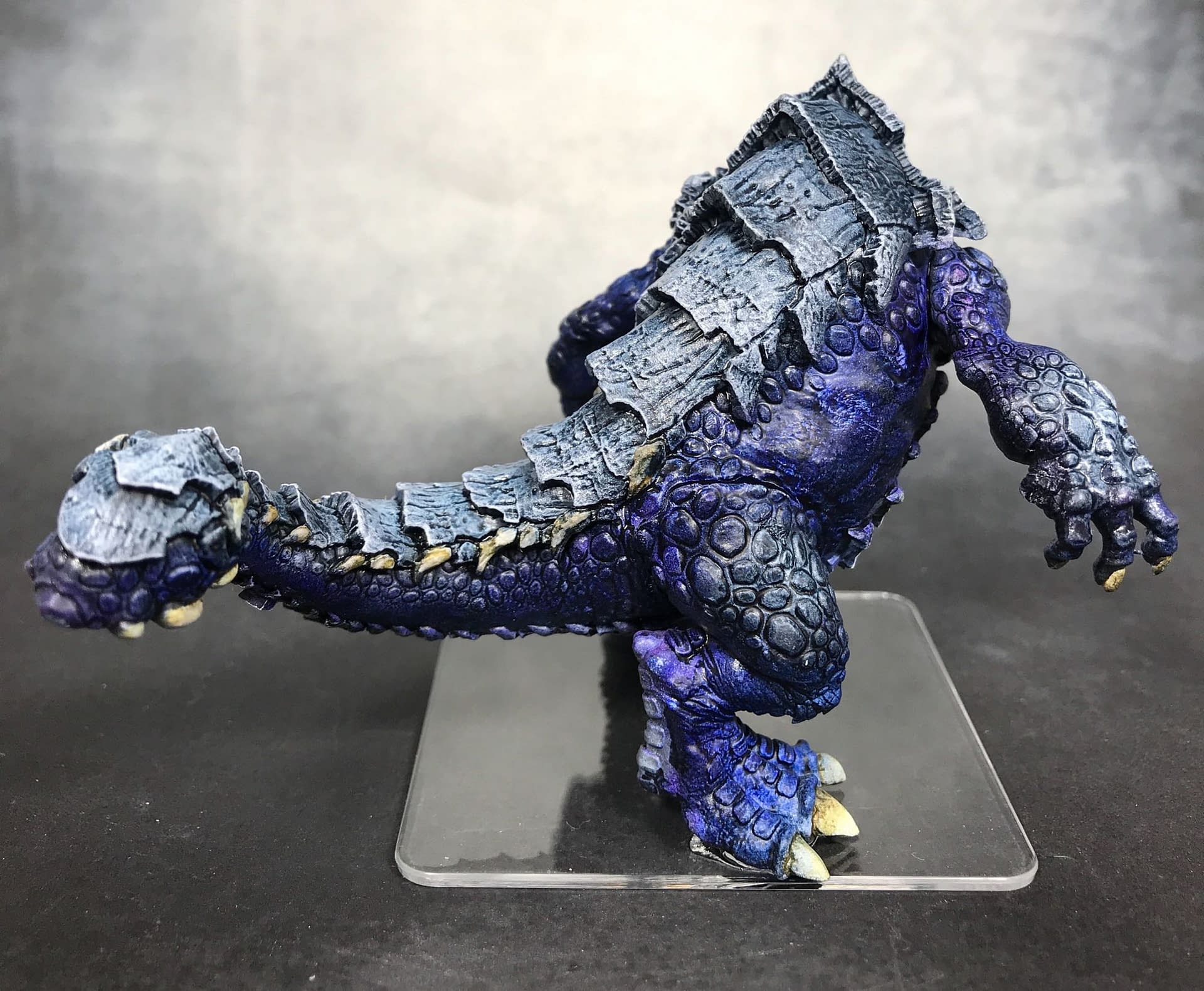 Conclusion:
Armodax is a great model that will reward careful assembly. The finished miniature will look great on the table, and will also make a fun show piece for giant monster fans!
This is the third Monsterpocalypse figure I've put together, and I really love what Privateer Press is doing with this line of miniatures!
Armodax retails for $26.99, and comes unassembled and unpainted.
How does she play in game? Stay tuned! I will have our first ever Monsterpocalypse Battle Report, with the Protector Forces of the Terrasaurs facing off against the Destroyers Forces of the Lords of Cthul!
Enjoyed this article? Share it!