Deadpool will become the latest release in the Bandai Manga Realization line of figures. Coming out in July, the figure will feature tons of articulation and a wise variety of accessories. Those will include three different pairs of eyes, interchangeable hands, katanas, and two pistols. The figure is available for preorder now.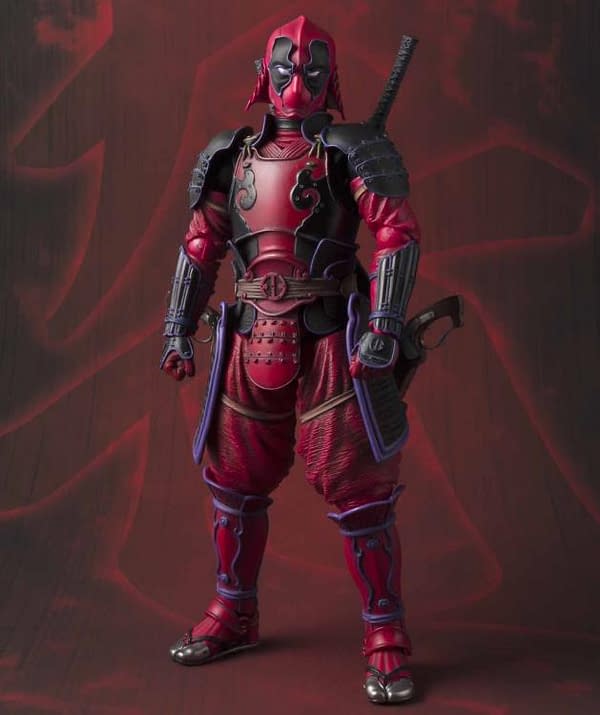 A Japanese take on the strangest superhero in the Marvel Universe, as envisioned by the legendary Takayuki Takeya, an expert on transforming popular characters into samurai and ninja. Includes two pairs of hands, a pair of swords, a pair of guns, three eye options, and two gun holsters.

Product Features

7.10 inches (18cm)
Made of plastic
Highly articulated
Envisioned by the legendary Takayuki Takeya
Transforming Deadpool into samurai

Box Contents

Deadpool figure
2 Pair of hands
2 Swords
2 Guns
2 Holsters
3 Eye options
These figures are pretty popular in the collectors market. I have the Spider-Man one and was hoping to have a Wade Wilson to add to his side. I also have a few of the popular Star Wars line of these, and I find that a few of those are a tad bulky and fragile to pose. From the pictures of Deadpool, however, that doesn't look to be the case. I am loving the alternate eyes we have been getting with masked characters for a bit now, as it allows even more customization and character to the figures when creating displays.
This one feels like it should come with more than two guns and two katanas, but it is not a deal-breaker by any stretch. Deadpool lends himself so well to this style of figure, this is a no-brainer add to the line, and next to Spidey may be the best possible addition.
The Marvel Mei Manga Realization Samurai Deadpool figure is available for preorder now right here.
Enjoyed this article? Share it!