The developers at NetherRealm Studios have decided to troll their audience a bit with a Mortal Kombat 11 victory screen involving The Terminator. And my oh my, is this thing brilliant. If you haven't been playing as the Terminator in the game, here's q quick breakdown of what this is. All of the characters in the game have custom additions you can throw onto them for your own personal flavor. Entrances, victory screens, costumes, etc. One of the options for the Terminator is to look down at your fallen opponent and see a red screen through its eyes to confirm your subject was "terminated".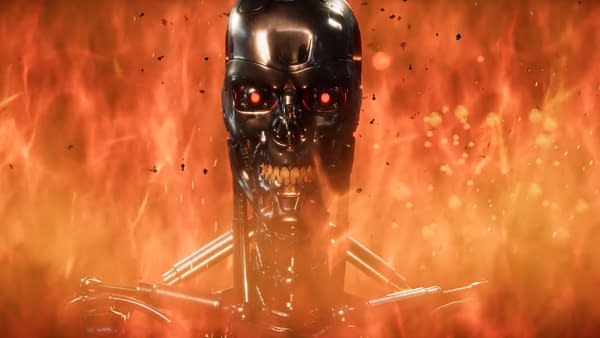 Below you can see what that screen looks like, as posted on Reddit. However, the devs for MK11 have thrown in a bit of an easter egg that trolls a lot of the fan's expectations. If you stay on the screen long enough, in the upper-right corner, you'll see the game start to run a sequence that says "Data Mine In Progress". This pulls up fake directories in the game about a second DLC called KP2, meant to be a reference to Kombat Pack 2 (which has not been announced). And in this pack, it suggestion characters like Milenna, Rain, Li Mei, Sareena, Meat, and Mokap are on the way.
The troll is in reference to this story, which at the time was a rumor and later was confirmed true, about a datamine someone did to the Switch version of Mortal Kombat 11. Essentially leaking all of the DLC characters they had planned ahead of time. (Except for Ash, which is another fun story.) And before you assume, no, we're pretty sure the devs are not planning a second Kombat Pack with these characters. A couple of members of the MK team have expressed embarrassment in the past over Mokap and Meat even existing in the first place, so trust us, they won't be around. But hey, if they are reading this post… Mileena and Rain being in the game is something we'd like to see! And if the second set of characters from that previous story is right, then it seems the devs have room to add a few more people to the game on that character screen.
Enjoyed this article? Share it!