"NBA 2K20" Releases New Info On System Improvements
2K Games released a new blog entry this week talking about some of the system improvements they made to NBA 2K20 and what you need to look for. We have some of the key ones we got a kick out of for you below as you can see they've upgraded some key systems. Especially working off-ball, which greatly needed improvement.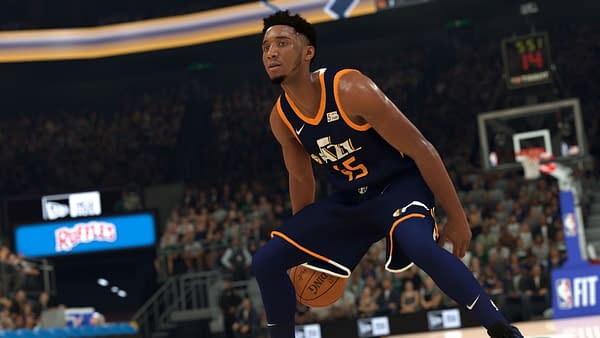 Motion Engine Upgrade

Proper footwork is a core foundation of basketball,and replicating that properly is vital to balancing the interplay between offense and defense. Without realistic movement, everything else falls apart.In NBA 2K18 we introduced a new motion engine that moved away from the "animation-driven" systems of earlier 2K games. The improvements to feel and responsiveness were immediately apparent whenwe made the switch, but the new tech surfaced some challenges that caused us to lose some of the control that we had over animation selection, sacrificingsome of the authenticity of the motion. In short, some aspects of movement looked and felt way better, some took a step back. Our motion team spent the past couple of years developing an upgraded motion engine with the aim of finding a happy medium. And thanks to their hard work, movement in this year's game has taken a huge leap forward. Some of the advances that you'll immediately see and feel when you pick up NBA 2K20 arebetter foot planting, momentummodeling, and motion style variation. Players have a much better sense of weightand plant their feet properly when cutting or exploding from a stand. And thanks to the addition of motion styles, you'll quickly feel the difference between alumbering big vs. aquick, explosive guard. The motion team spent a lot of time researching and analyzing sprint speeds and acceleration times of real NBA players. This helped us tune our player speeds to more accurately depict the speed of the NBA game, especially in the open court. This research also led us to re-design how sprinting works. We really wanted sprinting to be a valuable resource and not something that everybody automatically doeseverywhere they go. This year, you'll notice a flashing yellow effect around the Stamina bar when your energy level drops below a certain threshold. Once hit, you'll quickly ramp down to a run speed and get tired much faster. So it's important this year to pick and choose when you want to explode with your first step and not abuse the Sprint trigger all game long.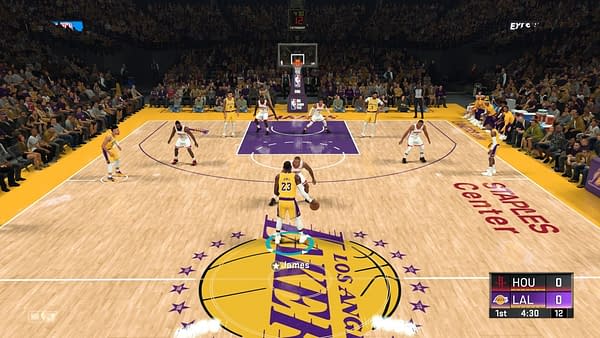 Handles and Sauce

Ball handlers now have contextual awareness of specific situations on the court that they didn't have before. Pick and Roll wraps/splits, situational cuts, and backcourt vs. frontcourt movement are a few examples of where we made the ball handler aware of his surroundings. Signature Dribble Styles were another key focus for the motion system upgrade, allowing us to accurately portray the myriad of movement styles across the league. We added new concepts such as stop variation–dead leg/punches, hesi lifts, inverts, etc. Cuts and first steps also vary greatly from one style to the next, allowing us to differentiate speedsters (De'Aaron Fox, John Wall) from players like DeMar DeRozanwho move with more "wiggle." Lebron James, Kawhi Leonard, and legends such as Kobe Bryant and Tim Hardaway have signature dribble idle stands. Magic Johnson and John Stockton set up their offenses with their unique movementbringing the ball up court, while open floor players like Russell Westbrook and Giannis Antetokounmpoget different sprint acceleration animations in transition. There are 27 different styles that you'll see across the league that you'll also have access to in MyCAREER to create the type of ball handler you want.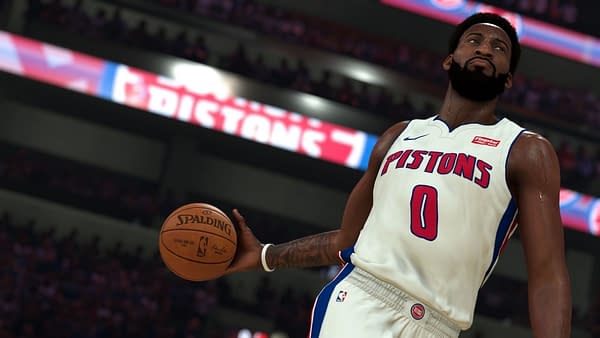 Read & React

But don't worry, we didn't neglect the defensive end of the floor. On-ball defenders will be happy to hear that we're providing more tools to help them lockdown their checksas well. Internally, we've been calling this Read & React Defense. When guarding the ball, defensive players will see a small arrow under the ball handler, indicating where they're leaningor attempting to go. The arrow showsup at different times based on the defender's abilities, modeling the different reaction times between a poor defender anda great one. Anticipating the ball handler's movement properly and cutting off their attack will yield much more predictable outcomes such as stonewalling the dribbler, forcing a pickup, or causing a fumble. Thanks to the motion engine upgrade and its improved defensive footwork, as well as a greatly improved body-up ride system, 1-on-1 battles now resolve in a much more predictable way, showcasing the differences between attacking a flat-footeddefender vs. highly skilled Lockdown. Under the ball handler, you'll also notice the indicator ring change from a solid circle to broken up linesas the ball handler moves around the court or performs moves. The more broken up the circle, the more vulnerable the ball handler is to losing the ball. To further emphasize this, we re-tuned on-ball steals to be much more predictable. So for NBA 2K20, it's more important to read what the ball handler's doing and reaching at the right times rather than running around randomly spamming the Steal button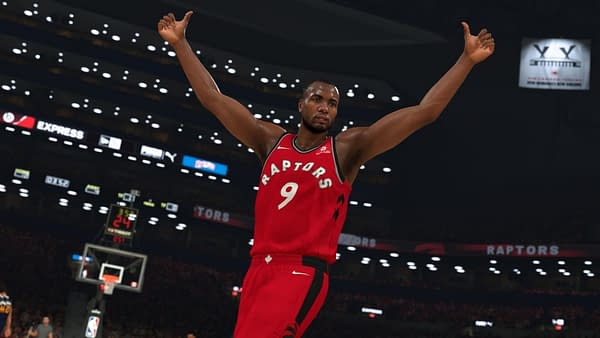 Working Off-Ball

A couple of monthsago in the "Ask a Dev"segment on 2KTV, I teased that an upgrade to off-ball play was coming. Players spend 90% of the time on the floor without the ball, so we wanted to make sure that aspect of our game wasfully featured. On the offensive side, NBA 2K20 brings back an old beloved feature… off-ball juke moves. We really wanted these moves to mirror the functionality of the ball handler, so not only have they returned, they've also improved. With simplePro Stick gestures, players haveaccess to fake first steps, spins, and stuttersthat you can chain together or immediately branch out of to perform flare cuts, dive to the hoop, or spot up for open J's. The moves are also broken down into three levels to separate elite off-ball players from the rest. The combo of new moves and off-ball movement make playing away from the ball much more of a skill game and let you re-create the epic battles we saw Klay Thompson and Steph Curryhave against the Raptors in the playoffs. Defensively, off-ball collisions were reworked from the ground up to take advantage of the technical advancements we've made to our body-up system over the past couple years. If you can read where your off-ball offensive opponents are trying to go, you cancut them off and put them in a box, making themwork extra hard for every look.