Netmarble Launches Ragnarok In The Seven Deadly Sins: Grand Cross
Netmarble has launched a new content chapter into The Seven Deadly Sins: Grand Cross as players will be experiencing Ragnarok. This is an entirely new chapter of content for the cinematic mobile RPG that will be introducing new scenarios and conflicts as the characters run into a new danger. As part of the event launch, the devs are gifting all players 100x Diamonds, an SSR [Warrior of Justice] Wanderer Thonar hero, and a full costume set for Wanderer Thonar. We got all the details of the event below.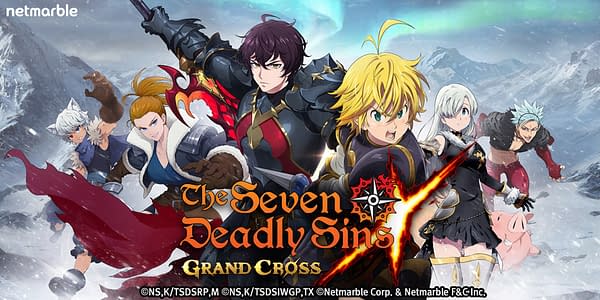 Ragnarok is a wholly-original story made exclusively for The Seven Deadly Sins: Grand Cross, and it is an ambitious and grandiose content update that expands the fan-favorite lore of The Seven Deadly Sins, while introducing new and diverse gameplay elements for experienced players. Players can look forward to the first chapter of the Ragnarok story, which is equivalent to a full season of The Seven Deadly Sins anime. Additional updates, including all-new story Chapters, stunning Ragnarok characters, and more, will be added continuously for the game.

The story of Ragnarok starts when Meliodas happens upon a forgotten library and discovers a book titled 'Legends of Yggdrasil' where he, along with the rest of The Seven Deadly Sins, are transported to the world of Midgard, a world nearing its end due to a three-year winter foretold by prophecy. New adventures await as Meliodas meets new Heroes from Norse mythology, explores an all-new world, and conquers dangerous dungeons to become even stronger.

Chapter 1 of 'Ragnarok Story' – Experience the first part of Netmarble's wholly-original storytelling that is equivalent of one full anime season. New chapter updates will introduce new Ragnarok heroes, related content, and new gameplay elements. Further details on chapters will be shared at a later date.
The Seven Deadly Sins: Grand Cross, Ragnarok Exclusive Heroes – An all-new set of original Heroes are now available to collect. These include SSR [Wielder of Gram] Prince Sigurd, SSR [Ragnarok] Lostvayne Meliodas, and [Warrior of Justice] Wanderer Thonar among others.
World Tree Tower / Grimnirs Book: In World Tree Tower, players can conquer an all-new dungeon based on the world of Ragnarok and farm for upgrade materials in this new area. The all-new Grimnir's Book allows players to learn more about the world of Ragnarok, its setting, and other facts about the world. Each update will add new content players can check to learn even more.