If you've been obsessing over DOOM Eternal like a lot of fans have, you may have noticed this new enemy in all their promo materials. Up until now, Bethesda Softworks really hasn't talked about any new additions to the game. We expected as much because we figured they were holding out on some material so you could discover it for yourself in the game. Well, this week they finally revealed one of the new additions through PlayStation's Twitter account, as we now know this demonic little guy is known as Whiplash.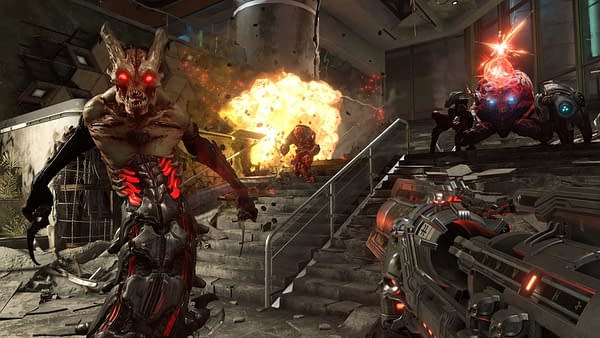 What exactly are Whiplash's powers yet, we're kind of unclear. Based on the short gif they made of him on social media, we can see he's a devil creature with a snake/serpent-like body. Looks far more bone and metal than an actual serpent. His right hand carries a chain which he lights up and cracks toward you, leaving a streak of sparks as he cracks the impromptu whip. So we're guessing mid-range enemy designed to keep you at bay. …Like that's gonna work on you. Hopefully , we'll learn more about him and more enemies in the game as we wait for DOOM Eternal to get a new 2020 release date.
Enjoyed this article? Share it!